(Yes the one lied about in the Polytechnic of North London ;))
May you all be happy, well, content, channelling your energies in the right directions and relatively able to handle overstim
ulation.
May you be able to create the right internal conditions via external ones and daily practices and habits. 🙂
Lifetime achievement award from the NeuroDiverse Review, Edinburgh Festival.
(Upside down in heart as well. I was not expecting anything. Very moving for me).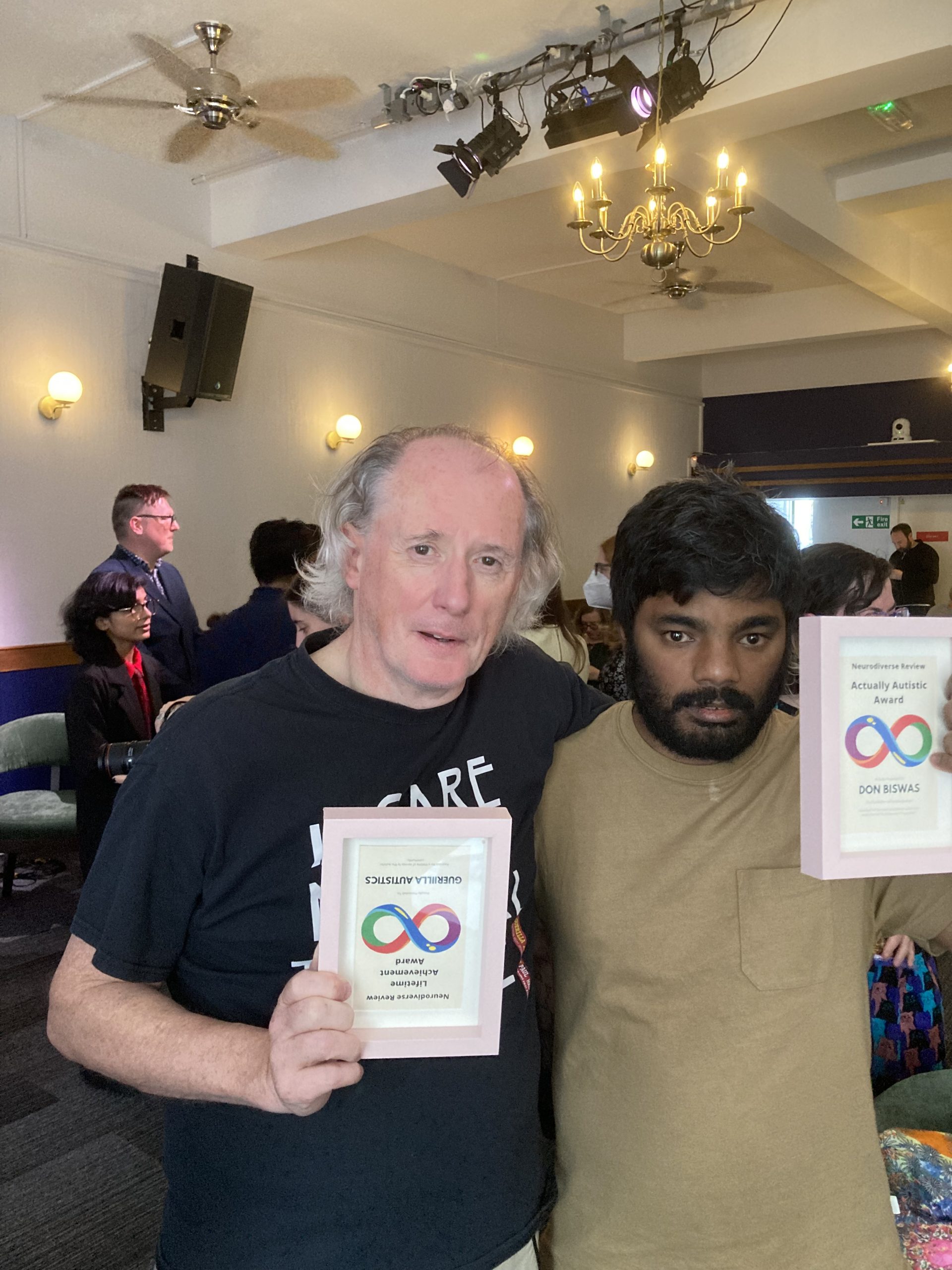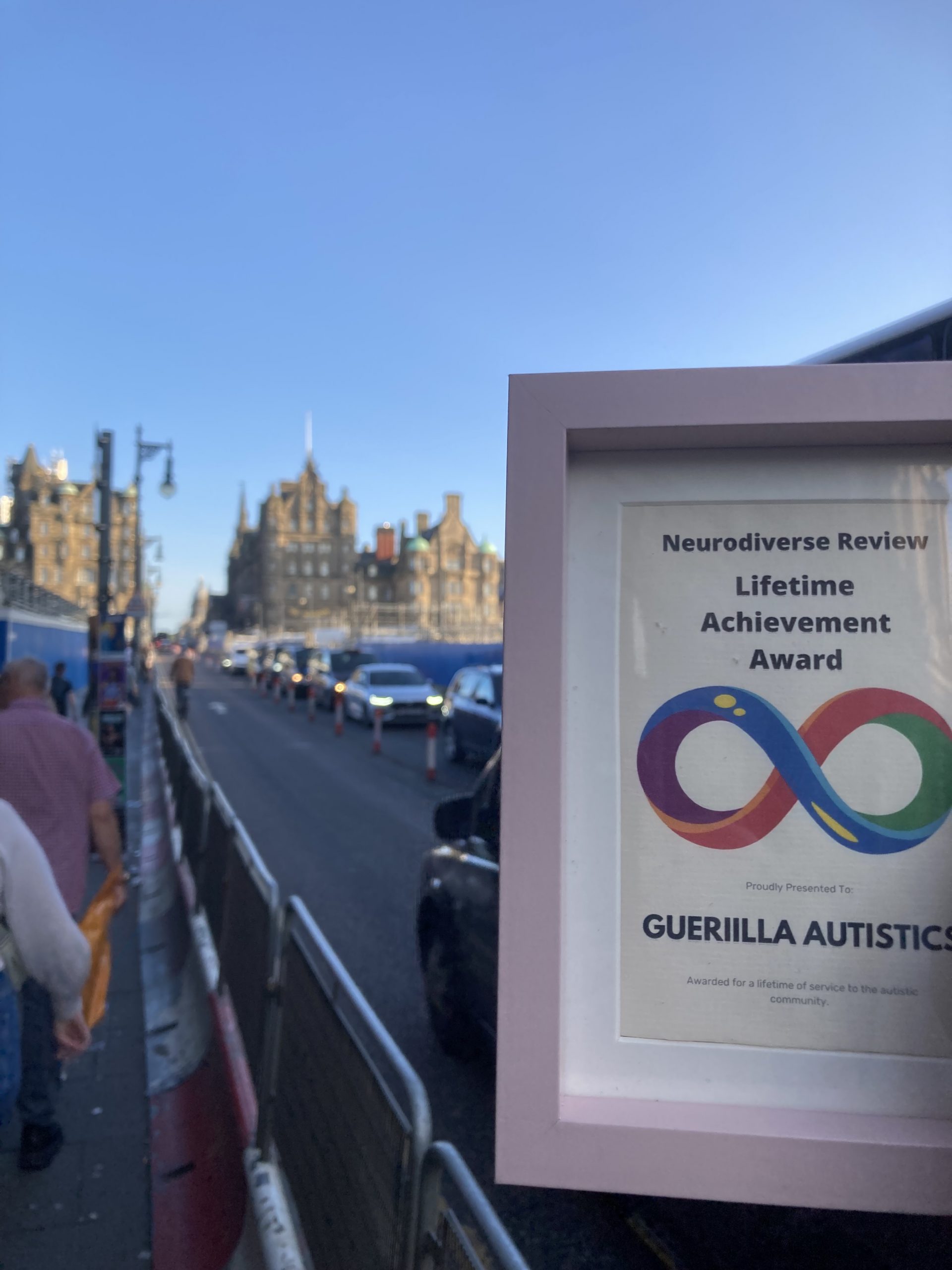 I was honoured to receive this award from Simon and the team on the NeuroDiverse Review, which focuses of NeuroDivergent and disabled performers. We had a ceremony in Edinburgh during my run. Even Robin Ince shook my hand! Seen in the picture with old pal Don Biswas.
KATE COPSTICK INTERVIEW AT THE TIME,
WITH ARTIST AND PERFORMER PAUL VICKERS AND MYSELF.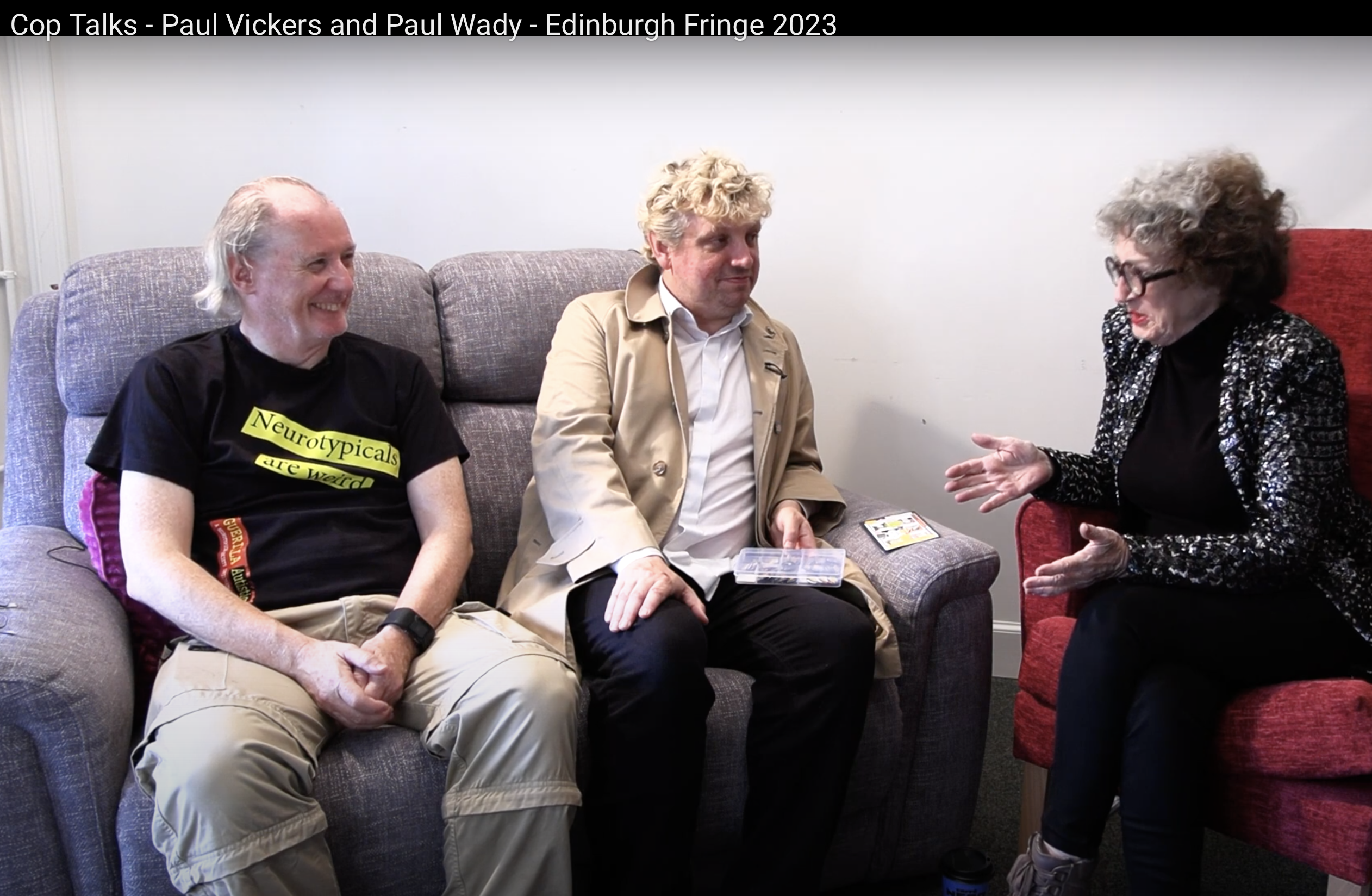 Thank you Kate and Paul x
CONTACT ME ON:
GUERILLAASPIES@OUTLOOK.COM and @PAULWADY
Best way is to use all at the same time. 🙂
IMPORTANT: My work and this site, are entirely appreciative of the experiences of autistic people who cannot do anything like I do.
The autistic people who will never live independently.
I have and occasionally continue to meet and work with such people, and hope to represent and be influenced by more. Make friends too.
I will always try to integrate such people into my shows.
I respect utterly the struggles and trials that brave parents go through.
I in no way, consider myself perfect or superior to any other autistic person.
As a buddhist I refer to myself as 'autistic',
in order to level my identity with all the rest of my kind.
I never practice any kind of abusive or aggressive behaviour online and attempt to find out if my arguments are wrong, rather than assert that I am right. I am prepared to listen to others.
Yes I am Neurodivergent from the Neurotypical.
Be happy, well and live in peace x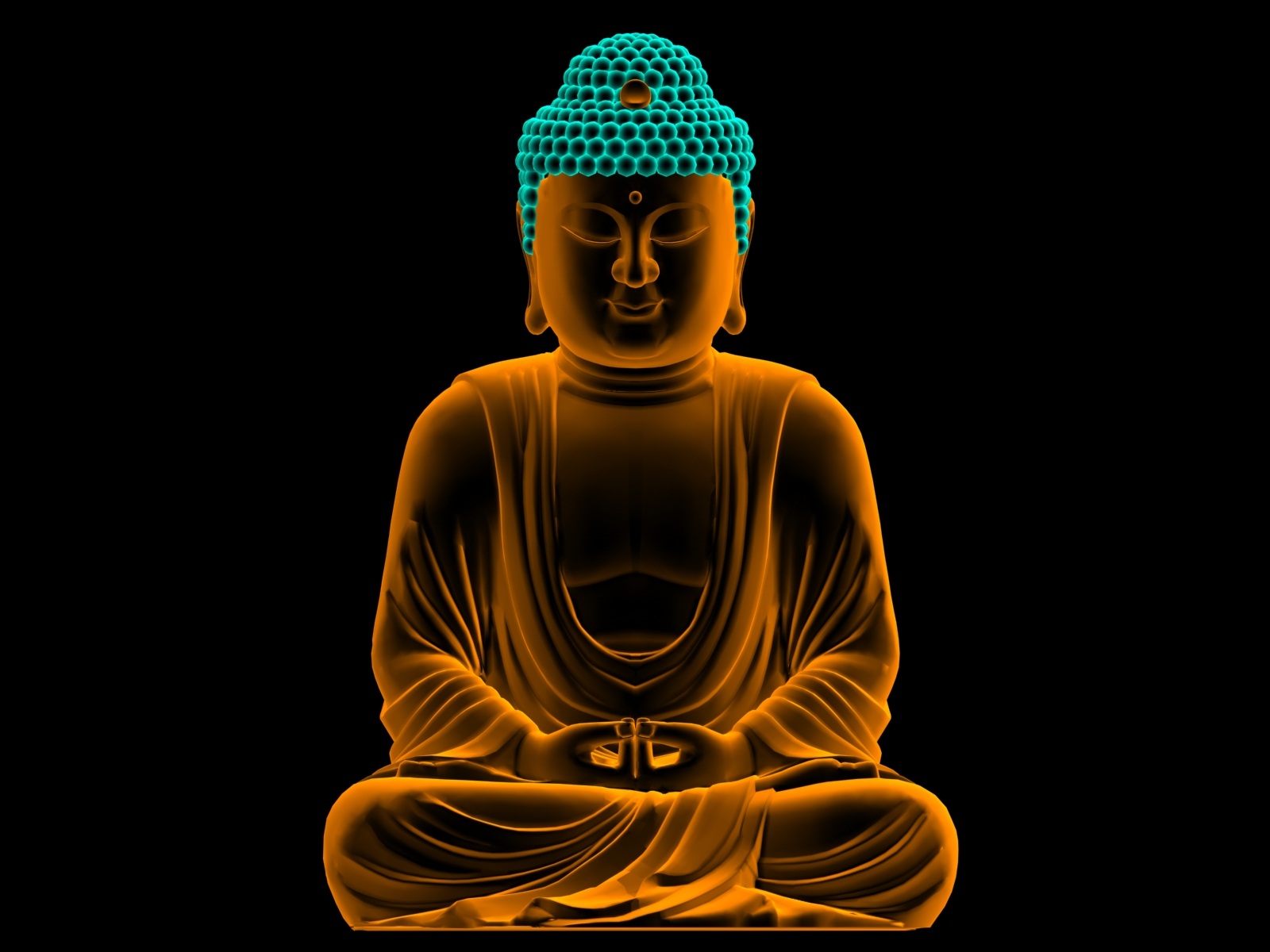 THE 2023 EDINBURGH FESTIVAL SHOW WAS A SUCCESS.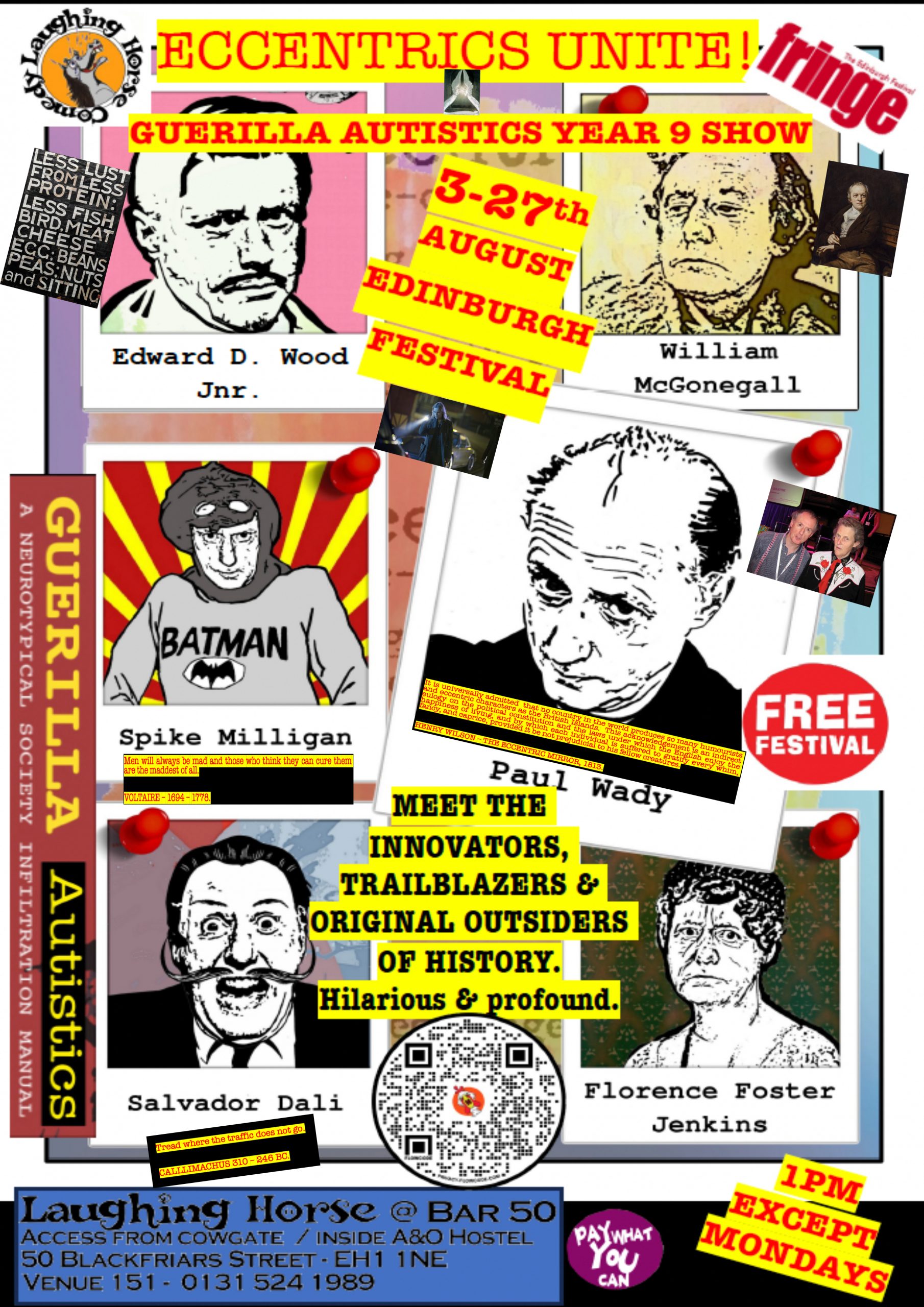 BEFORE I WAS AUTISTIC I WAS ECCENTRIC.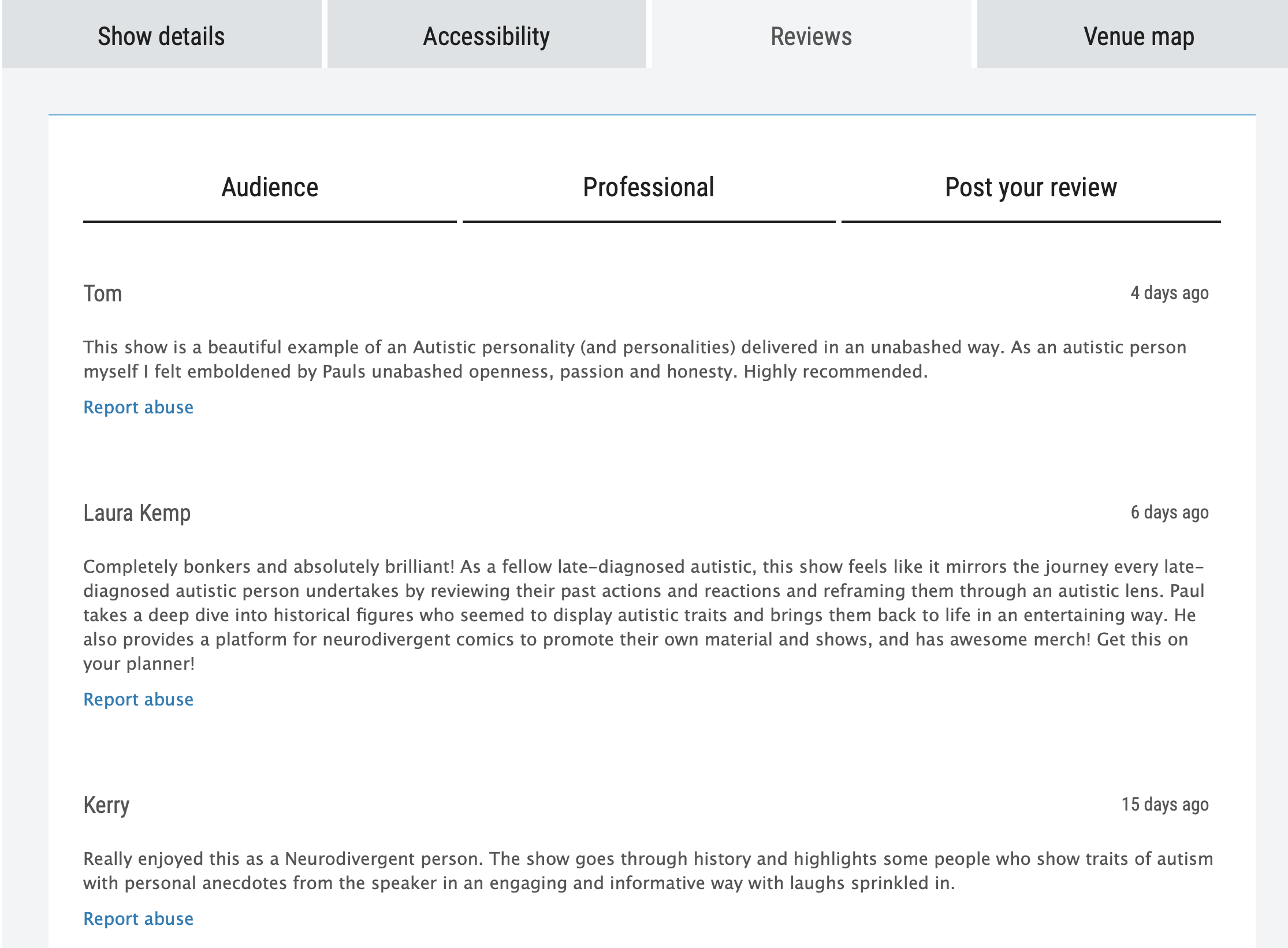 A wonderful exploration of those who have always existed between Neurotypical and NeuroDivergent definitions. What constitutes an Eccentric? Good ones, bad ones and who knows ones. Are you one? Guest Eccentrics if they feel like turning up. You can never tell with these people.
CLICK HERE AND ON THE PICTURES FOR THE GUERILLA AUTISTICS T SHIRTS & BADGES,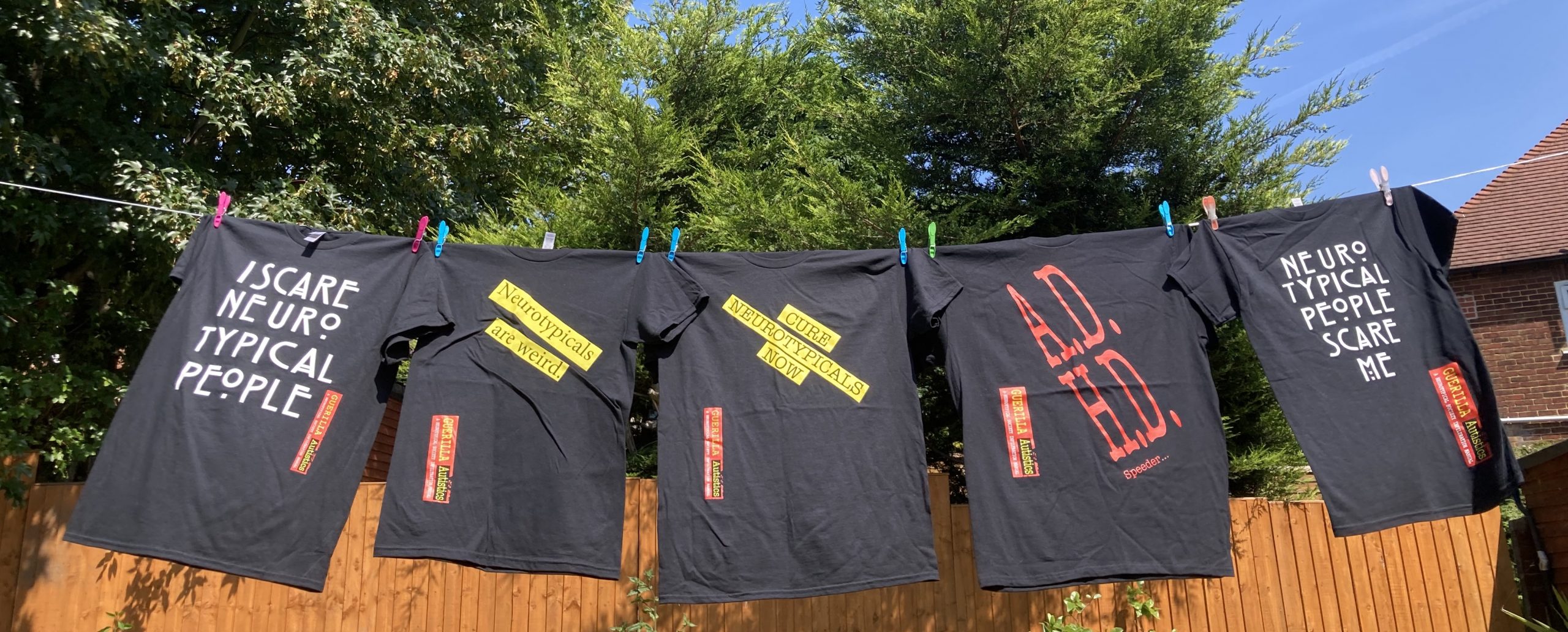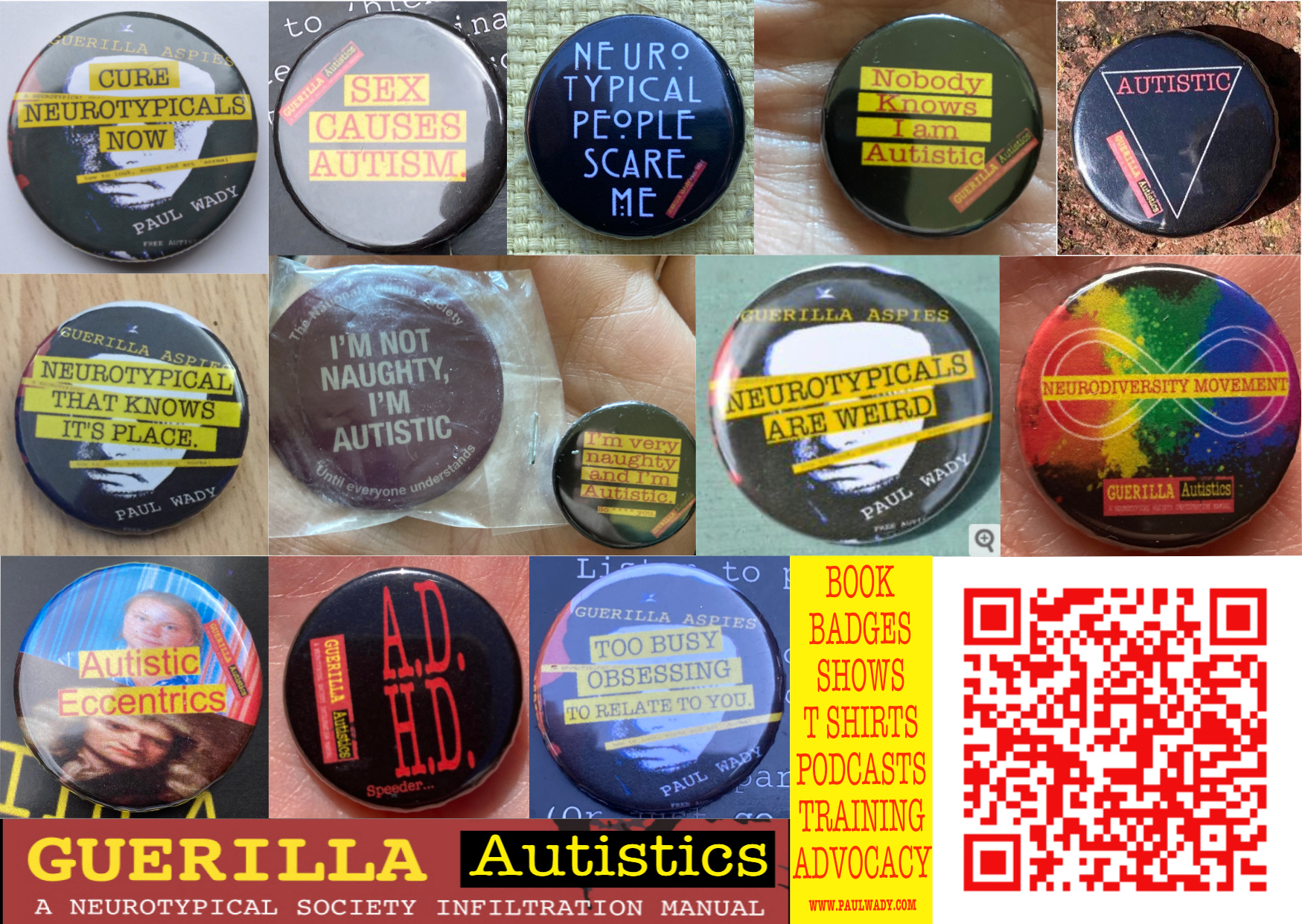 Buy this here book immediately and you get one free badge too: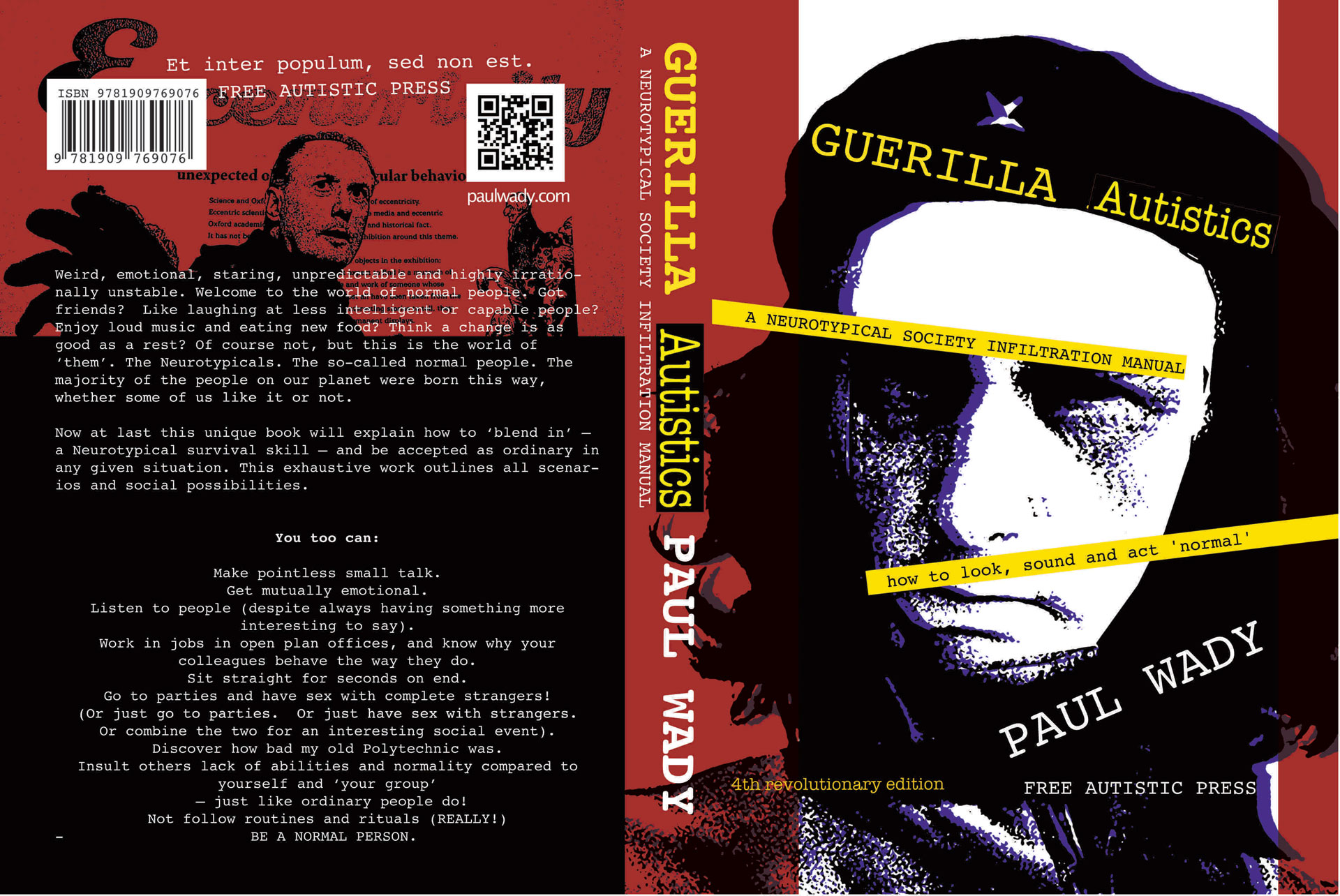 Formerly Guerilla Aspies, this fine work is available from all the best bizarre and occult bookshops, such as Watkins in Charing Cross (they took one, yay!), and all the other ones I could find that take work like mine. Just have a nose around. Best one was News From Nowhere in Liverpool. So proud to get one in there. 🙂
You can buy signed editions from my Ebay with a free badge here:
Signed Paperback with a free badge.
What I have gotten upto in previous years. 🙂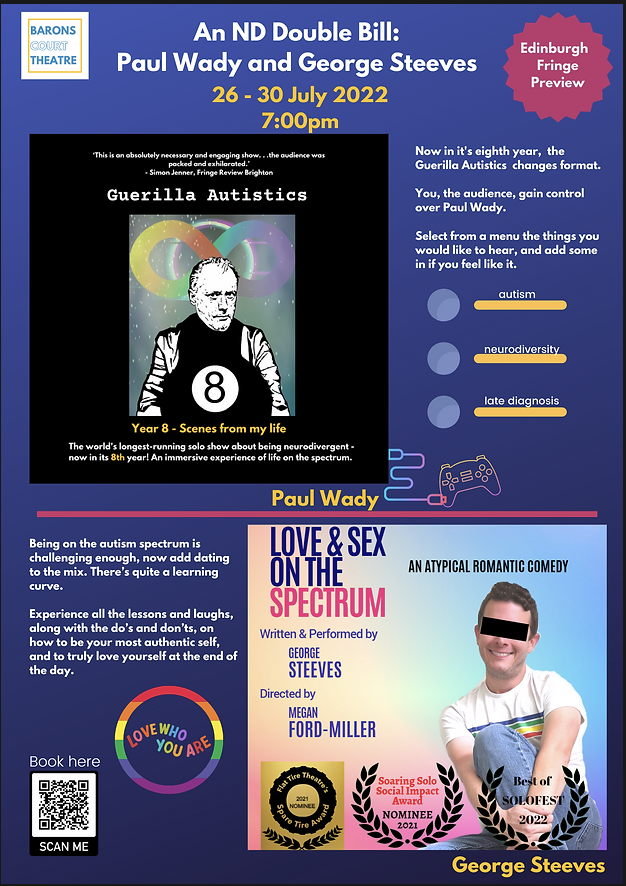 After the London run we went up on the train to the Edinburgh Free Fringe.
DOUBLE BILL WITH MY GOOD FRIEND FROM LOS ANGELES,
MR. GEORGE STEEVES WITH HIS UNIQUE SOLO SHOW.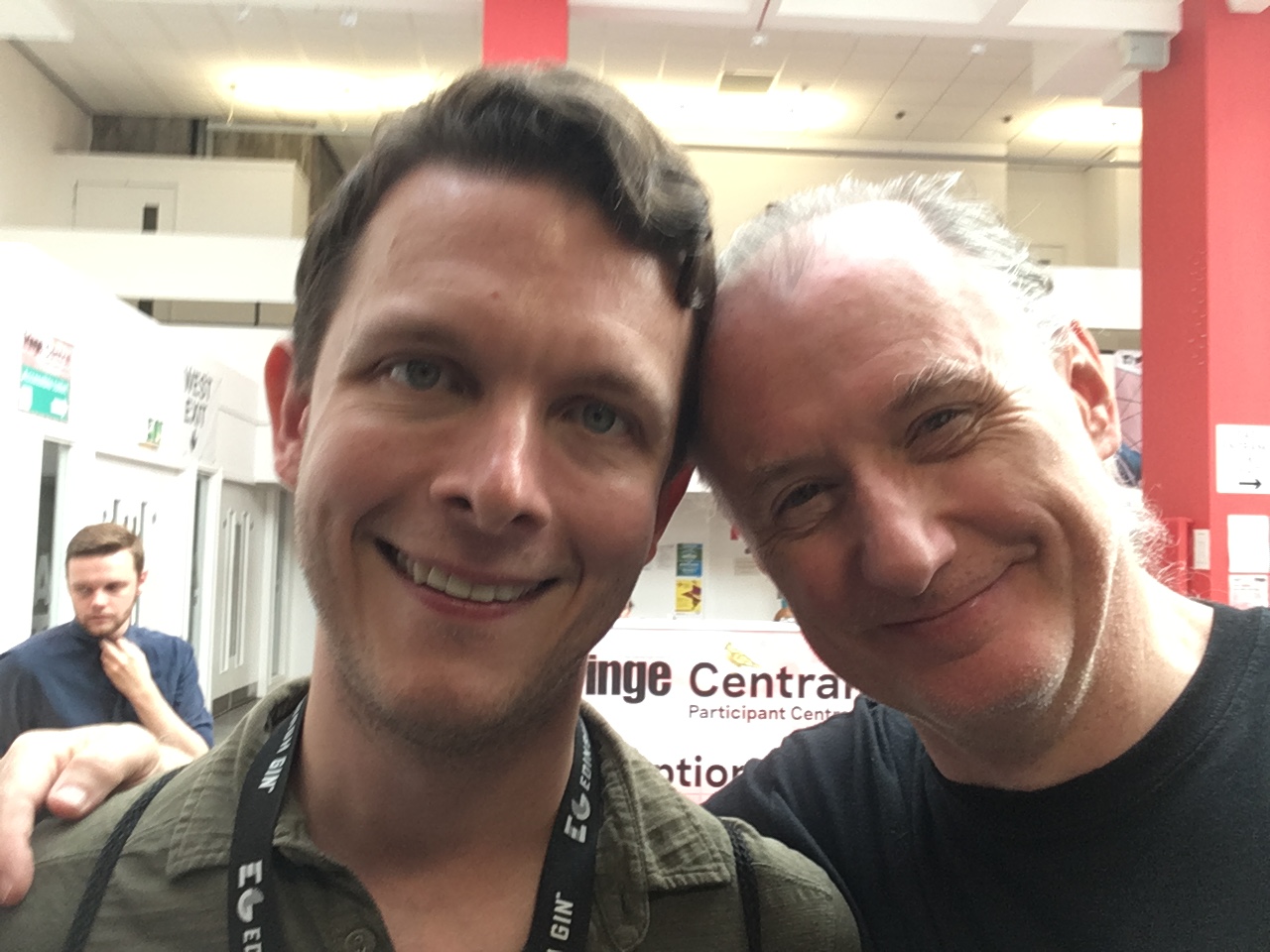 Back in February 2022…
WE DID IT! THE NEUROSPACE COLLECTIVE
THEATRE SHOW WAS A SUCCESS.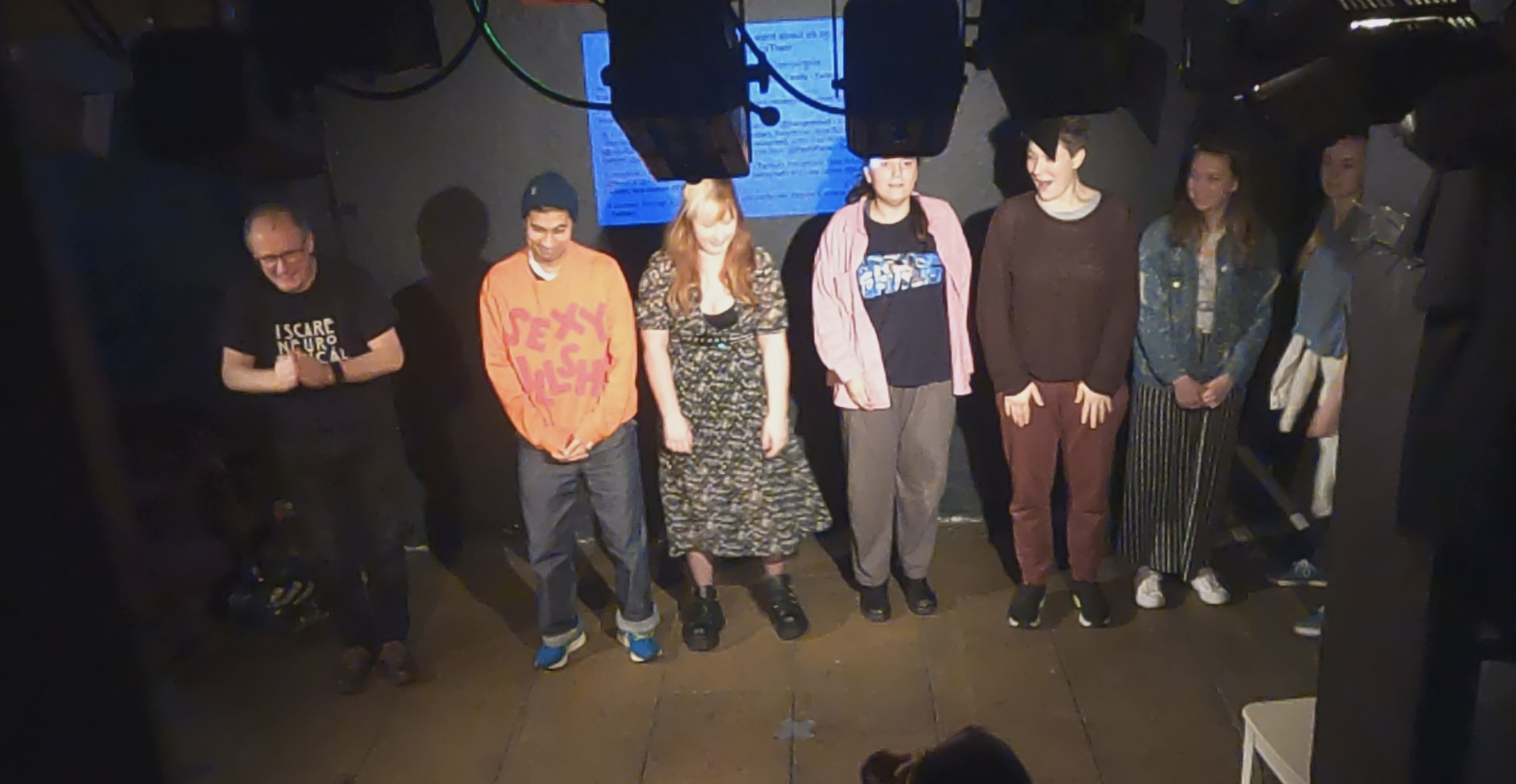 Yes, Stealth Aspies was reborn as the NeuroSpace Theatre Collective for five performance. Or the Neurodivergent Space Collective Theatre. Or NeuroSpace Collective. Whatever you feel like that does not involve Hans Asperger no more. We had a great time. Sadly I missed the last one due to catching Covid. Everyone else tested negative and carried on. How could they without me? It remains a mystery…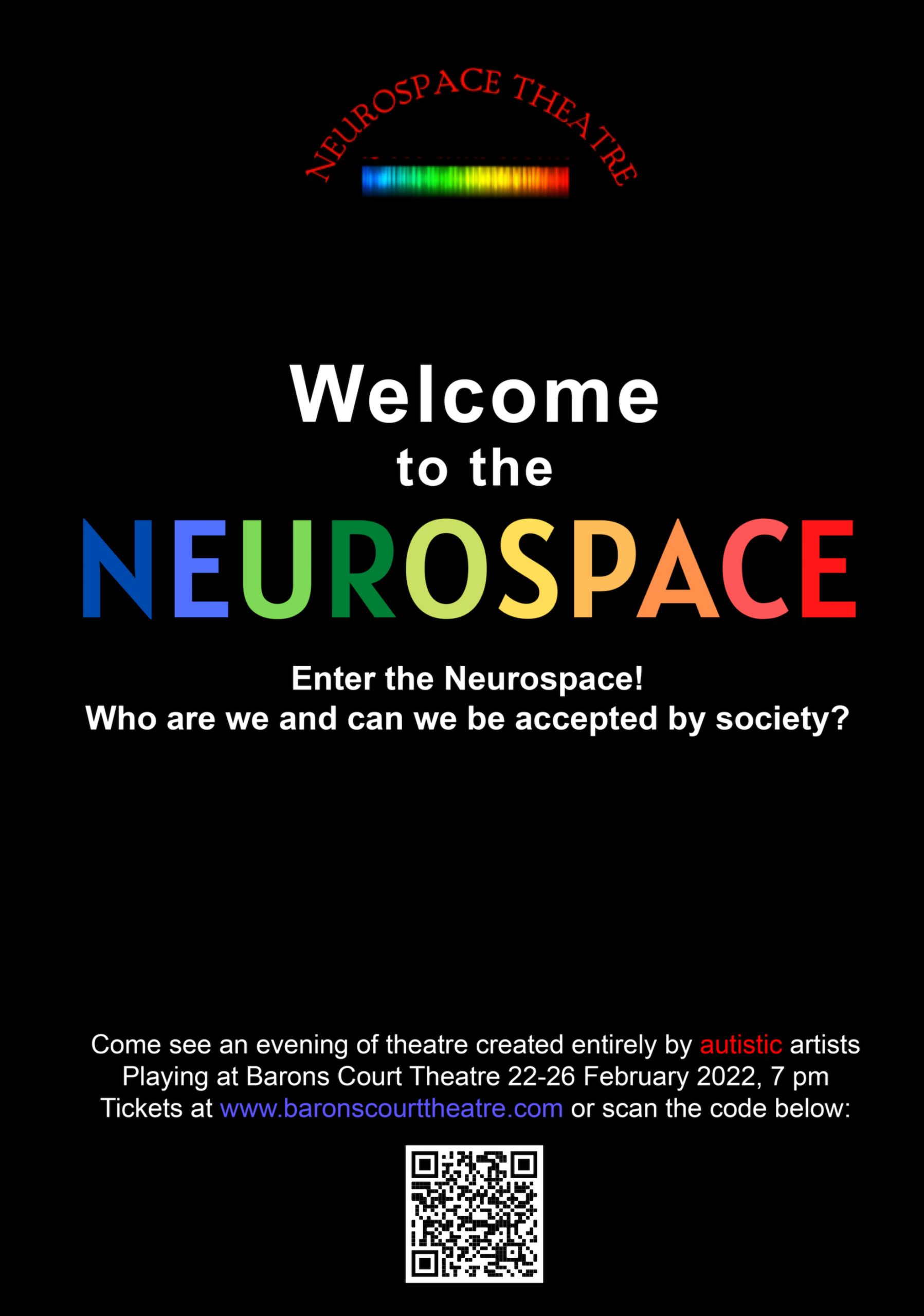 Malicious or delusional?
The strange case of
Dave Francis.
UPDATE: A self advocate my employers asked me not to name, saw the film that Francis made in revenge for my documentary on his actions and so believed it that they copied it, put it on their own Facebook and Youtube and then tried to complain about me. This came to nothing at all. Which is why I am now able to go public about this. But the films with their slanderous claims are still up. So I am now serving the woman with a Solicitors letter as the first stage of action. I want to see how it goes with Francis around serving him too.
Francis has started writing such hilarious and far fetched accusations about me on his YouTube film introductory section, that I will be going over what he's said later on (shows in London and Edinburgh you see) and posting the lot up. I did not see the need to spend the money. If there was any proof in what he is saying, I would have been arrested by now and put in Broadmoor by the looks of it. Feel free to look at his film upon myself? Where does he mention the accusations in the film. Check the timeline dates…
I am not the first person to take legal action with the woman as someone else I know has had to go to both the Police and a solicitor to stop her. It appears to be relentless attention seeking.
Last year this man befriended me out of nowhere on Facebook specifically to stage and harvest screen grabs he then re purposed. I'd never heard of him. He claims I found him. How?
I made a 77 minute documentary showing every screen grab of all dialogues that happened before I found he'd posted lies about me on his Facebook page, and blocked him. He was only sharing friends status for 4 days anyway. Prior to all of this I had no knowledge this man existed.
He has tried his best to make me out to be unstable, psychotic and…I have no idea what? He made the short film for his Just Frank Autism Channel. After I made mine which anticipated his actions.
He also repurposed excerpts from two of my films in order to enhance his effect.
It's worth looking at them both to see what they are actually about.
WARZONERS SEASON TWO – HYDRONAUT.
Yes my plastic friends are back in the 2021 season of my animated madness. We find ourselves on a Royal Naval submarine, apparently rooted in the real world…sort of. Now contained within a greater plot, join the crew of HMS Hydronaut as they dive into trouble whilst trying to get on with each other onboard.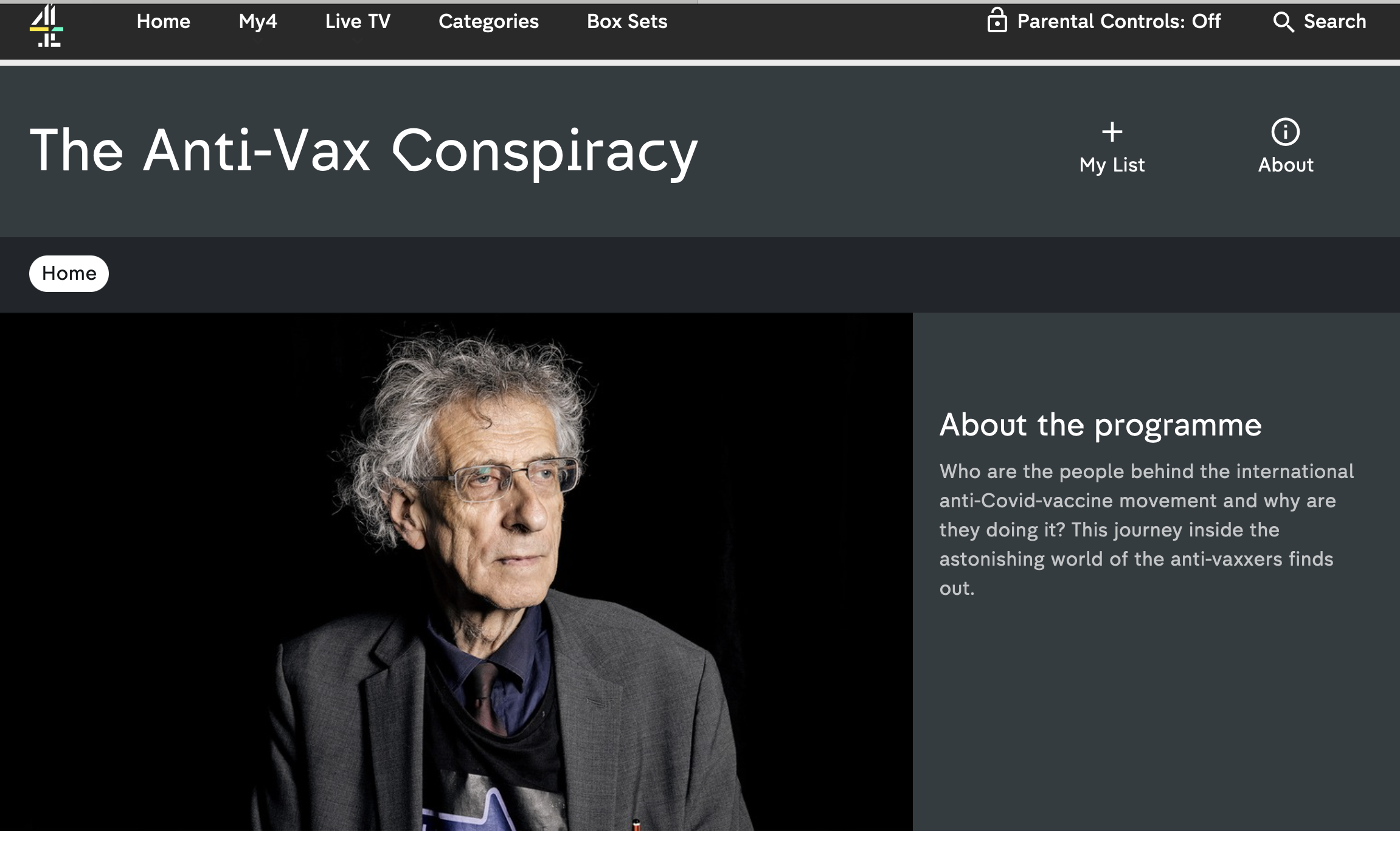 I had to stop going on about this issue and these people back in 2019. It was becoming obsessional. Then the entire planet ground to a halt over one virus and look what it all led to? Brian Deer's brilliant and very well researched book is being ignored by Wakefield and his cult, and they are all technically in it that are mentioned above. Have a look at it. Get it in your library and read it for free.
Remember – you and I can concede and admit were or maybe wrong. (I hope you can, anyhow). I am certain the people you are all going to see, never do, can or will. Neither will they have a back up plan/beliefs if they are wrong. Why will you experience such intense beliefs around one subject? Apart from it's how you react when you have to be right and cannot be anything else because of how you feel, you tell me?
My talk for World Autism Awareness Week 2021.
WEDNESDAY 31ST MARCH 2021 ON FACEBOOK.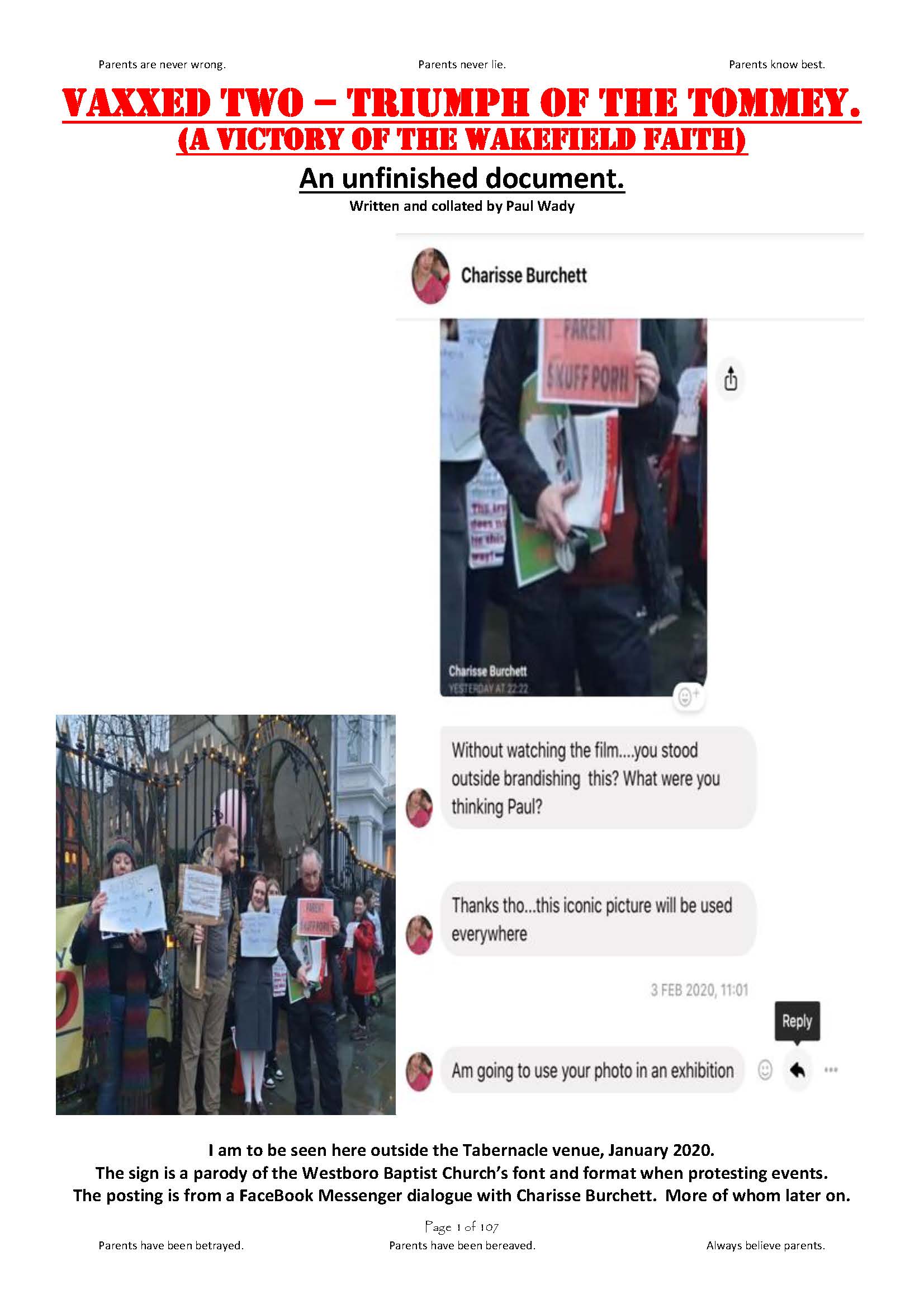 VAXXED 2 – TRIUMPH OF THE TOMMEY. FIND IT HERE FOLKS.
Supposing I told you that they used the first film to convince parents their children were vaccine damaged, then went around filming the results in order to prove themselves right? In this 2020-2021 time of the great Covid epidemic, I present the people who have been proactively trying to kill all of us for many years.
GUERILLA ASPIES PODCASTS
RIGHT HERE.(Touch, click, stroke…)

I am chapter 15 in this new book, The Neurodiversity Reader. Full of great articles by scholarly autistics with impressive qualifications that some people need to see in order to read them. Order from your library or online here.
THE NEURSPECTACULAR SHOW FILMS.
NeuroSpectacular was a collective of autistic writers and performers and can be found on Instagram here. Many fine performers.
Here is my contribution to the project. I decided to leave it and instead have produced a collection of films on my own. Click on this link to see them all. Good luck guys.
The below video contains images that may distress.
Stealth Aspies: Marlborough Theatre Brighton,
June 2019.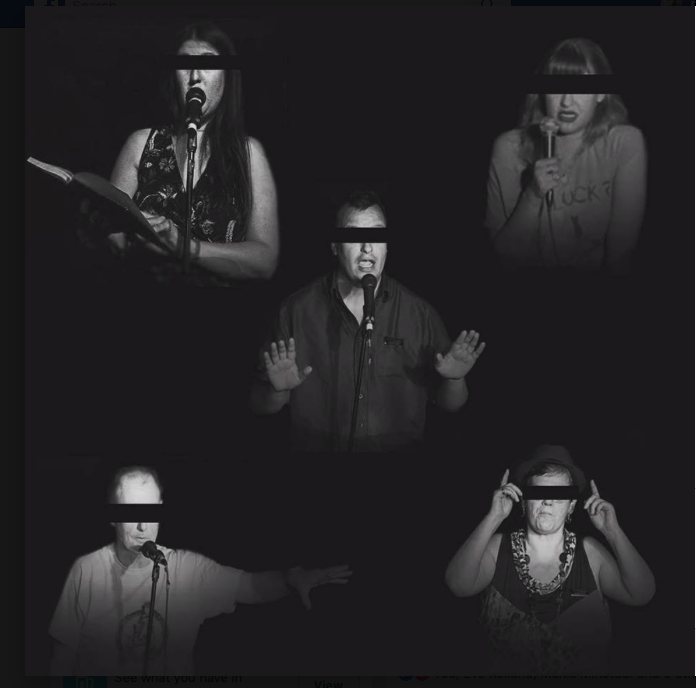 We had a high – end film made of our show on the Marlborough Theatre, Brighton back in 2019. It's here to be found as part of the online 2002 Edinburgh Festival fringe, through our friends Laughing Horse. Please enjoy.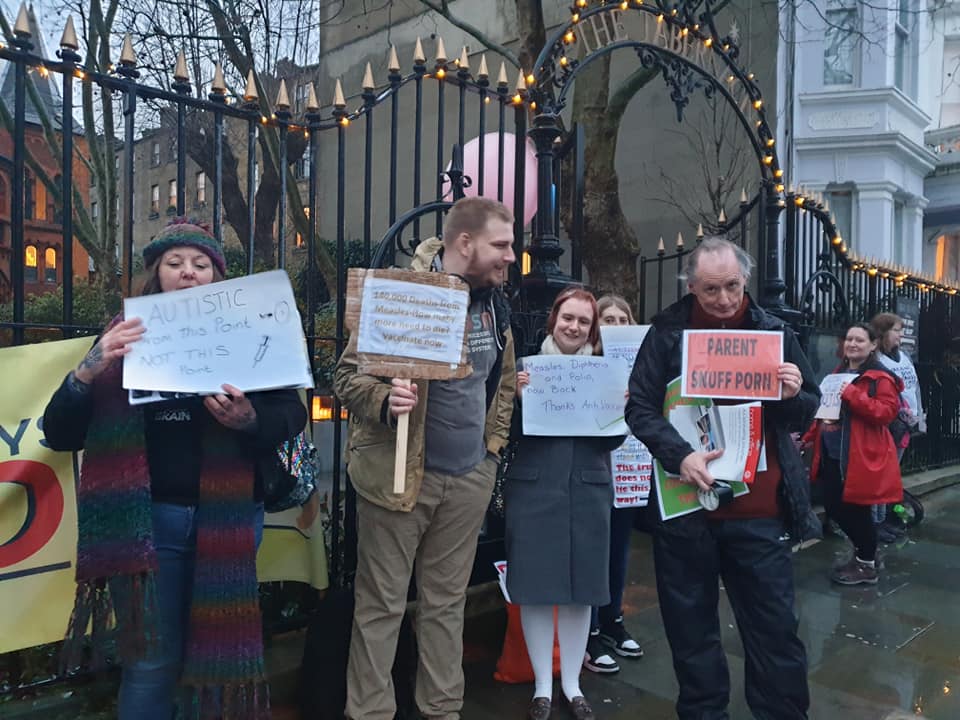 Outside of the Tabernacle venue, Westbourne Park on the 26th January 2020 with Emma Dalmayne's AIM group protest.
A Link to the AIM group's activism and campaigning right HERE.
THE VAXXED II FILM PROTEST'S.
I was proud to be one of the 11 people that Emma Dalmayne got together to protest at the screening of a genuinely dangerous, misinformation film that portrays autistic people as brain damaged due to vaccines. Polly Tommy the infamous Andrew Wakefield disciple toured the USA, filming gullible parents whom the Wakefield cult has convinced were vaccine damaged. The result is what I christened a 'Parent Snuff Porn' film. For an explanation of that term, please listen to my new Guerilla Aspies podcast which you will find linked HERE.
(One issue raised in the podcast is when exactly, Tommey started the Autism File Magazine. An excuse to print literally any ideas about the term autism she and her people fancy projecting upon it. Things can get rather odd inside. I found it a bit tricky to get an exact date and said in my Podcast it was 1998, although I now have a date of 1999 which would assume it was all going on whilst Wakefield was being considered by the British Medical Council before they struck him off).
I also made a sign with PARANOID CONSPIRACY THEORY MEDICAL SCIENCE FICTION ON IT, a term I coined during my write up of their first bizarre film which you can find on my site HERE.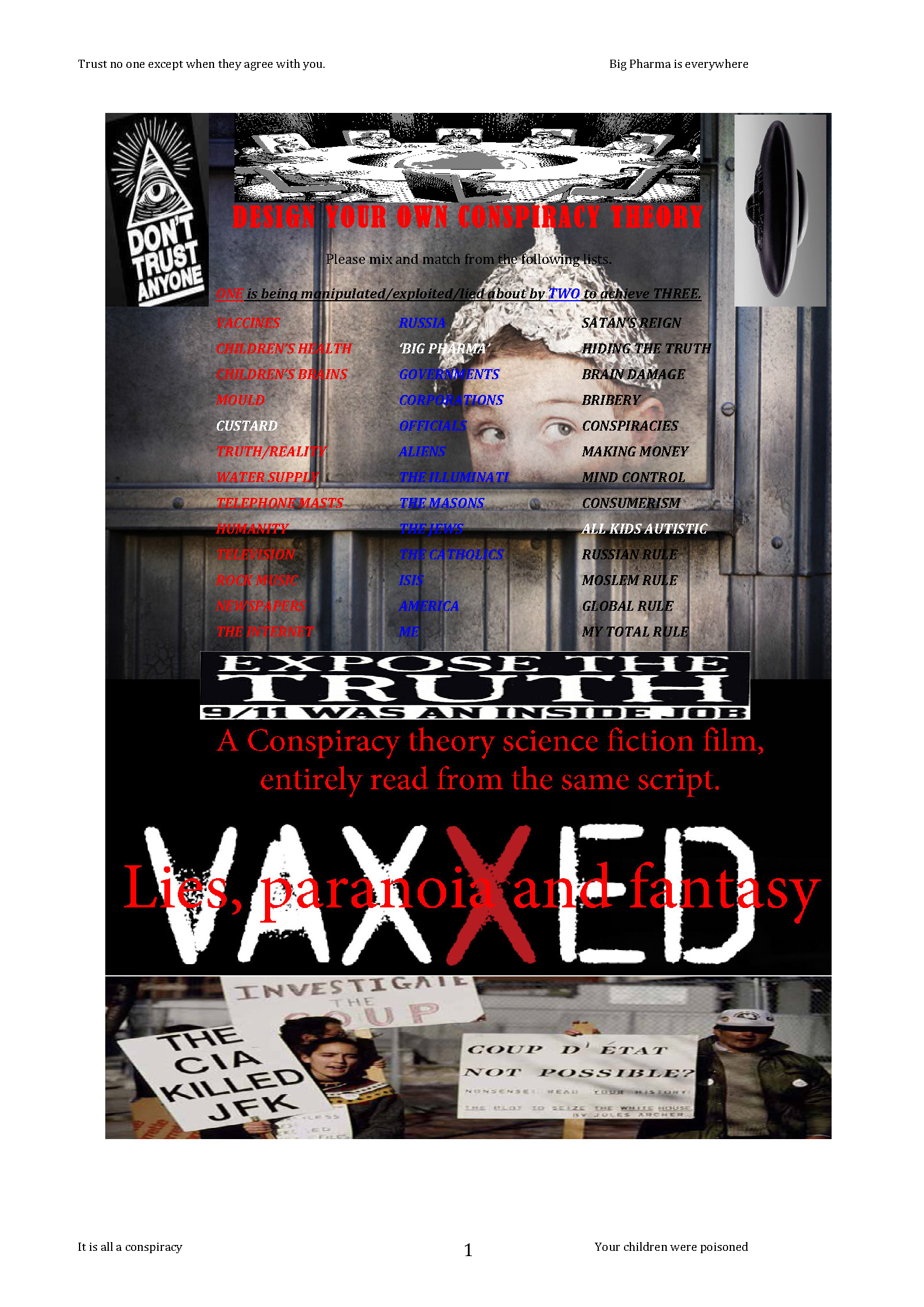 THE BOOK
I said, buy this immediately:
Available from all the best bizarre and occult bookshops, such as Watkins in Charing Cross (really), and all the other ones I could find that take work like mine. Just have a nose around. Best one was News From Nowhere in Liverpool. So proud to get one in there. 🙂
You can buy signed editions from my Ebay with a free badge here:
Signed Paperback with a free badge.
Or just buy badges: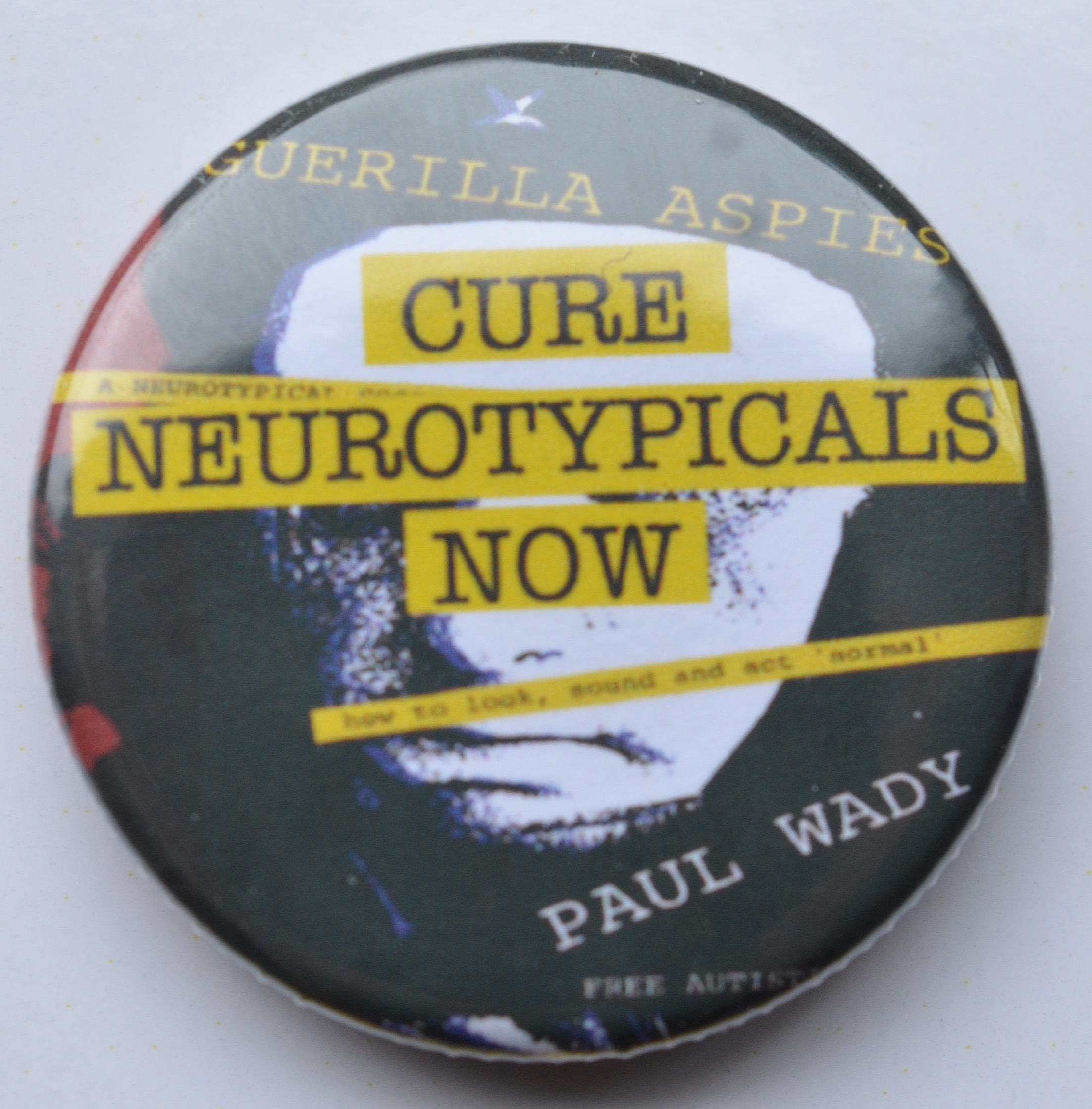 CLICK ON HERE OR SCROLL DOWN ON HERE FOR THE LINK TO MY EBAY. LOOK FOR THE BIG FRIDGE MAGNET..
LOCKDOWN FUNTIME
Confined at home I finally started exploring using my creativity for other things than autistic self advocacy. Here we have my animated films. Epic tales of combat, conflict, friendship, war and dodgy battlefield poetry. Also from 1974 Lion holiday special, a gas quaffing maniac…
W A R Z O N E R S -season One.
What have I been up to?
GUERILLA ASPIES
FIFTH YEAR MEGA SHOW.
Theatro Technis in Camden Town hosted a one and a hour long version of my show in September. Thank you to everyone who came. Had a great time doing it. The Anti Nowhere League said they judged how well their shows had gone by how much sweat they were covered in. I got a good glow on this one.
Camden has long been the mythical home of sub culture for me and although I left it all behind a long time ago, it was a buzz to actually perform there. Theatro Technis is right by Mornington Crescent station but I was able to walk up Camden High Street after the performance and travel back in time a little to when I first visited the place in 1986.
I also managed to make an hour and a half long film of most of the show. Not sure what to do with it but some will appear here.
EDINBURGH 2019 SHOWS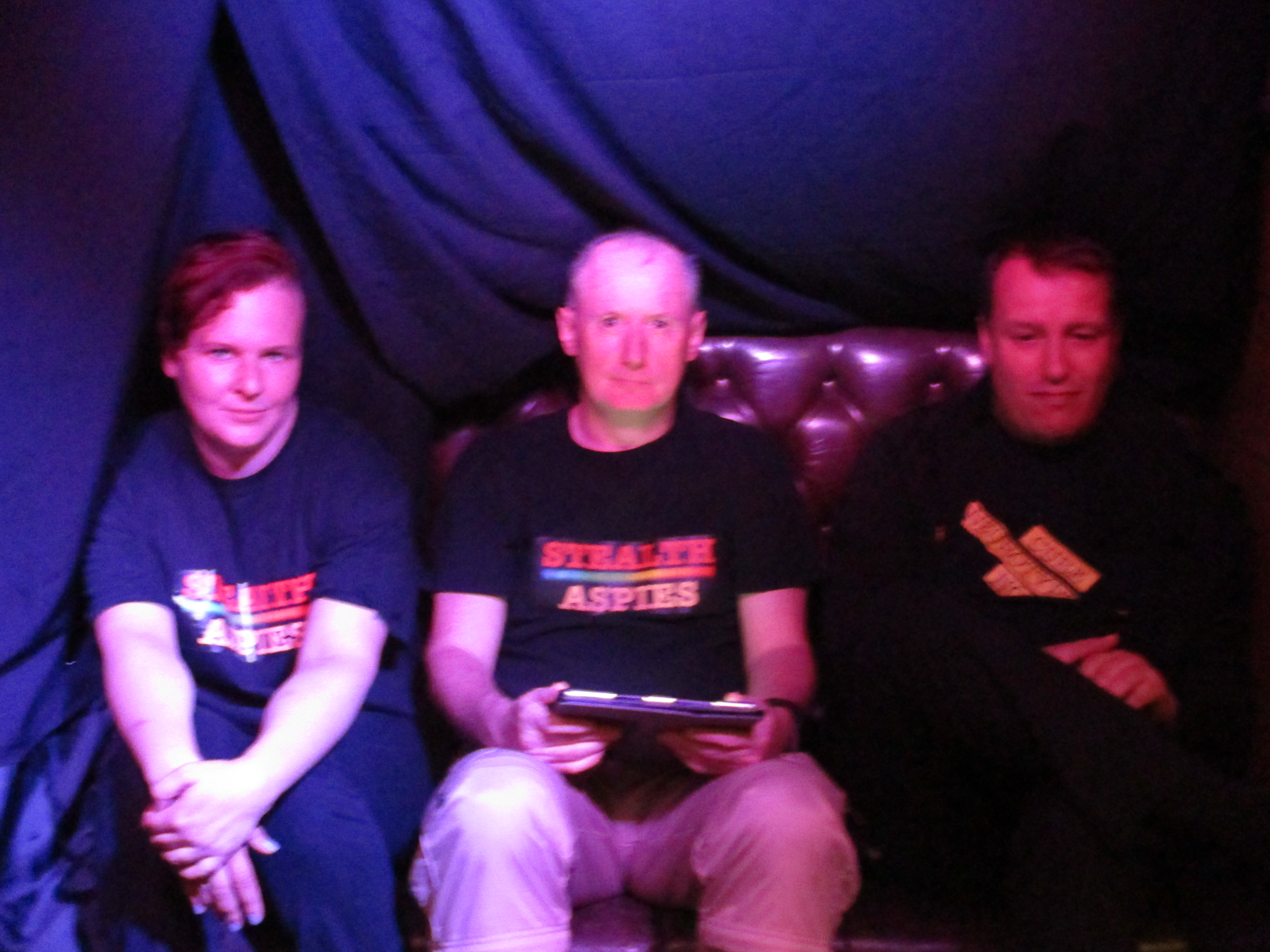 Stealth Aspies with the Aspies Annonymous set (upgraded with some new pieces) and the wonderful Serin Thomasin played Finnegan's Wake bar during the festival. A fine time we had too. Great to see old friends and make new ones. Alain and Paul performed as well.
GUERILLA ASPIES was back with the Not an Autistic Puppet Show, year five performance.
This was from the start of the year.

#PUPPETGATE: The curious incident of the All in a Row play at the Southwark Playhouse.
On monday the 18th of February at 5:30pm onwards, I organised a protest outside of the Southwark Playhouse for the play All in a Row, which is to be found here. Dr Shaun May saw the show and reviews it here.
The staff kindly brought us out all a big tray of tea with milk, and about a dozen of us had a jolly time on the pavement for two hours. The press came that night and mentioned the protest in their copy thereafter. So this was something of a first. Community members coming together to stand for something. All this from a post from a pal I noticed online. (Check #PuppetGate and @AllInaRowReview).
A petition has to date passed the 16.000 signature mark and is heading for more. (Yes it is here on the link) It is work looking up just to read the occasional comments. Dehumanisation, tokenism and patronise are all mentioned. The symbolism of such a person being reduced to a manipulated mannequin, otherwise non human and animal like, feature as well.
Anyone saying that it has been criticised for using a puppet to play an 11 year old non verbal and aggressive autistic boy alone and is not being given a chance to be seen or considered, clearly has no idea of the simple issue of using a puppet to stand in for an actually autistic actor, or the dehumanising use of a puppet to play an autistic person. (The writer stated that he did not think anyone on the spectrum could play the part). It turned out as you will read in Shaun's review, that there were far more issues involved in the production.
The reviews are worth looking up as well.
THE SPECTATOR ARTICLE.
On the 19th January 2019,
The Spectator magazine printed a bizarre article called THE DANGER OF NEURODIVERSITY.
I wrote a complaint to the IPCO press Commission. The response was that the Spectator article fell outside their very specific remits. A write up of this issue is coming.
This seemed to me to be the first attempt in a global magazine and the main stream press, to incite hatred against autistic self advocates. Panned and dismissed, it nonetheless constituted the first acknowledgement that a sub culture of autistic people had become so successful in self representation that people actually started protesting against their free will and expert knowledge to represent their own kind. As if it was a step backwards to have people representing themselves. This sort of anti thinking is not restricted to The Spectator. The complaint was not successful as the Spectator are clever like that. However, this is all far from over.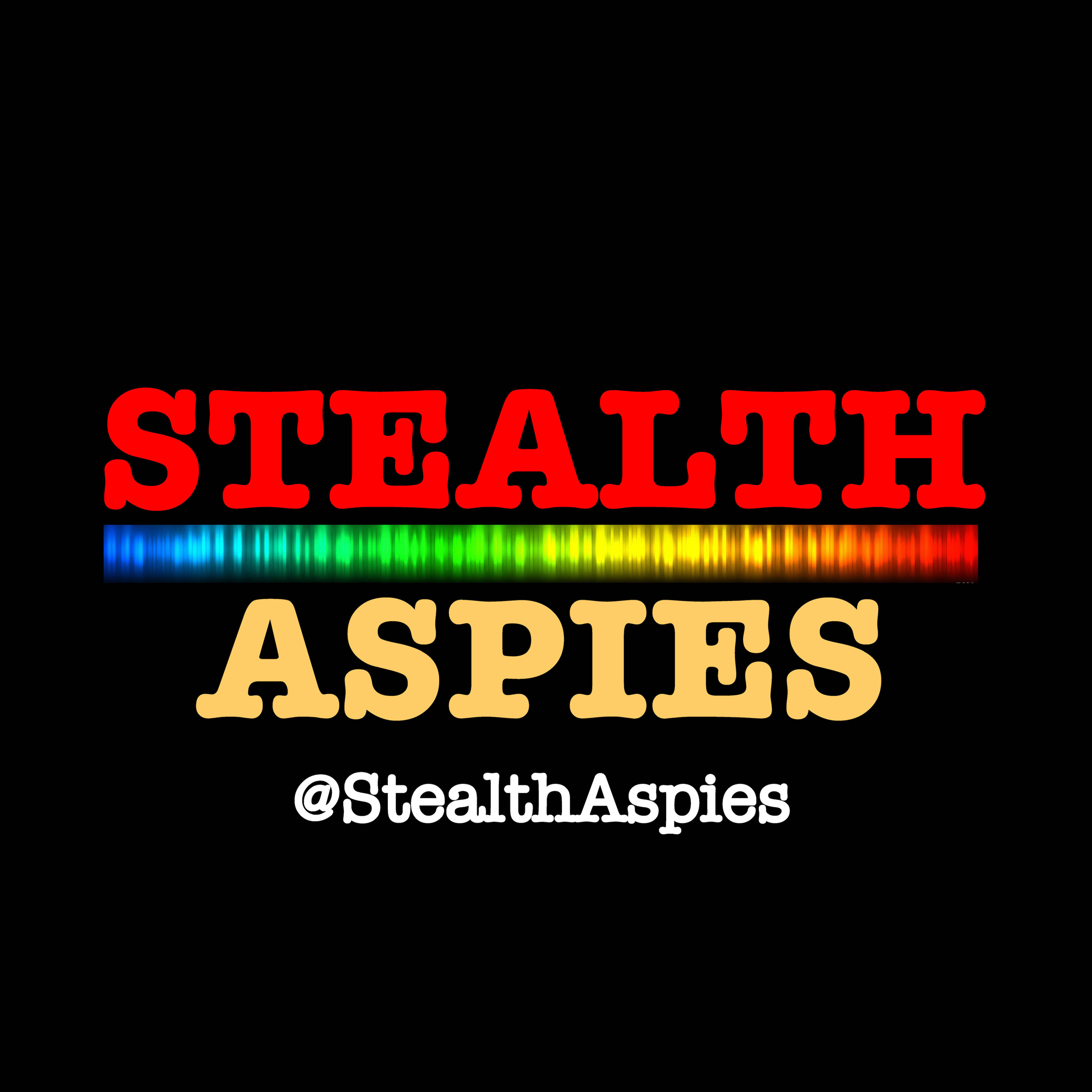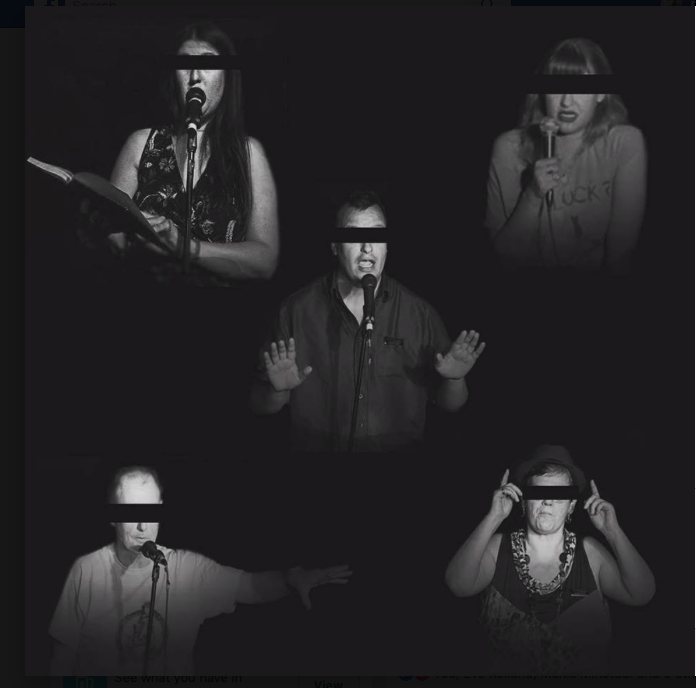 Stealth Aspies are go for our third year.
Everyone of us an artistic director and equal partner, the autistic performance collective now has Arts Council of GB funding and will be doing a min tour in 2019. If you want to see us, contact us via stealthaspes@gmail.com and we can come play for you. It is an honour to work with everyone.
ON THE EDINBURGH FRINGE,
BACK IN 2018.
We had a great time. Emma Robdale and Chris Pike make unique contributions with their writing.
Janine never made it but her poetry and writing sold out.
Thank you to everyone who came and met us and made friends.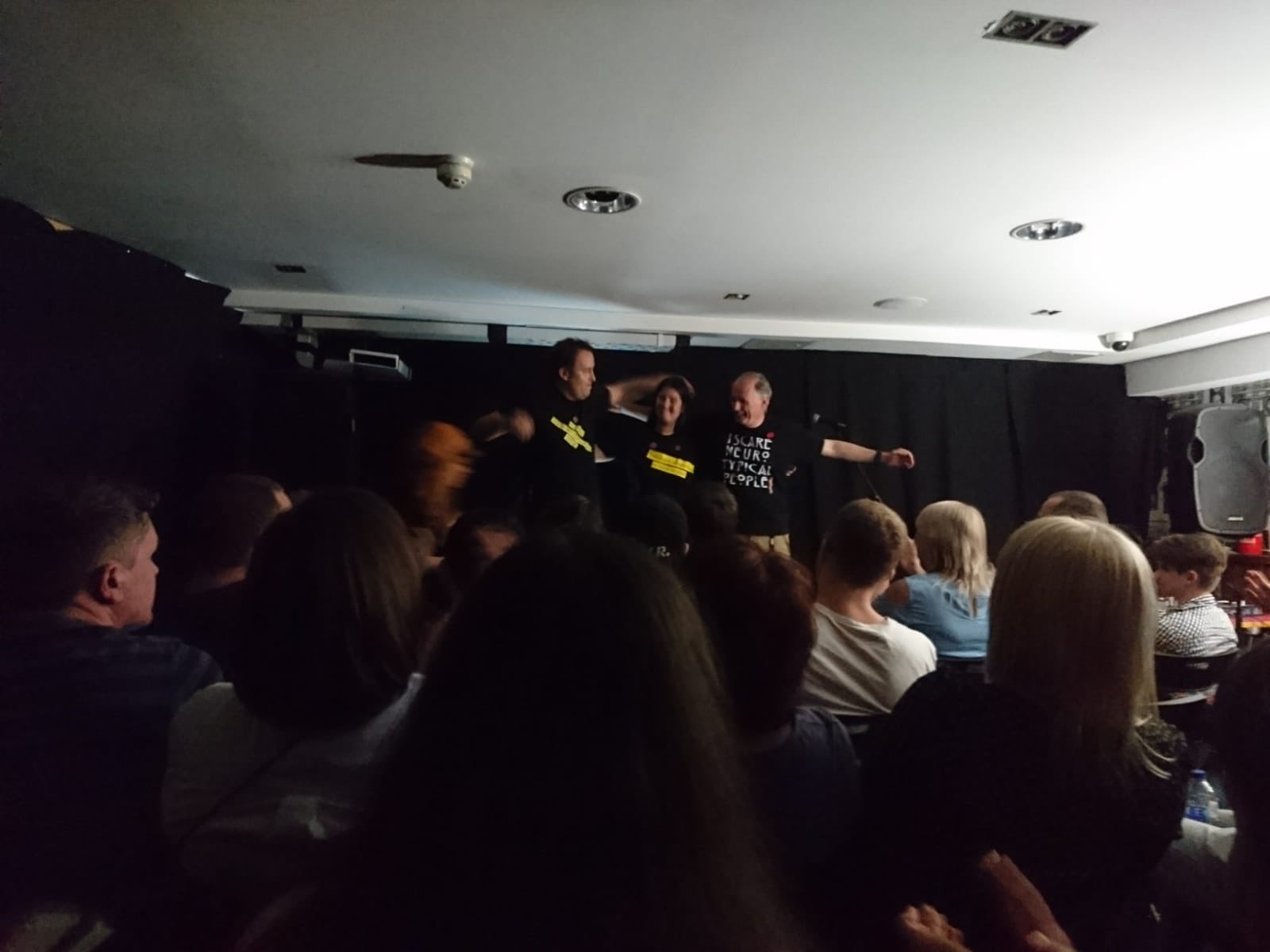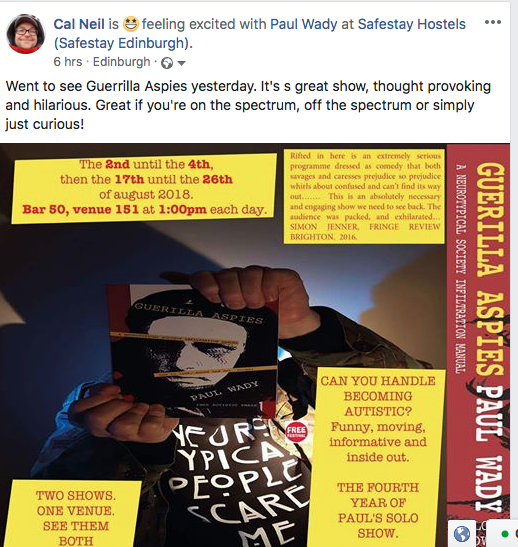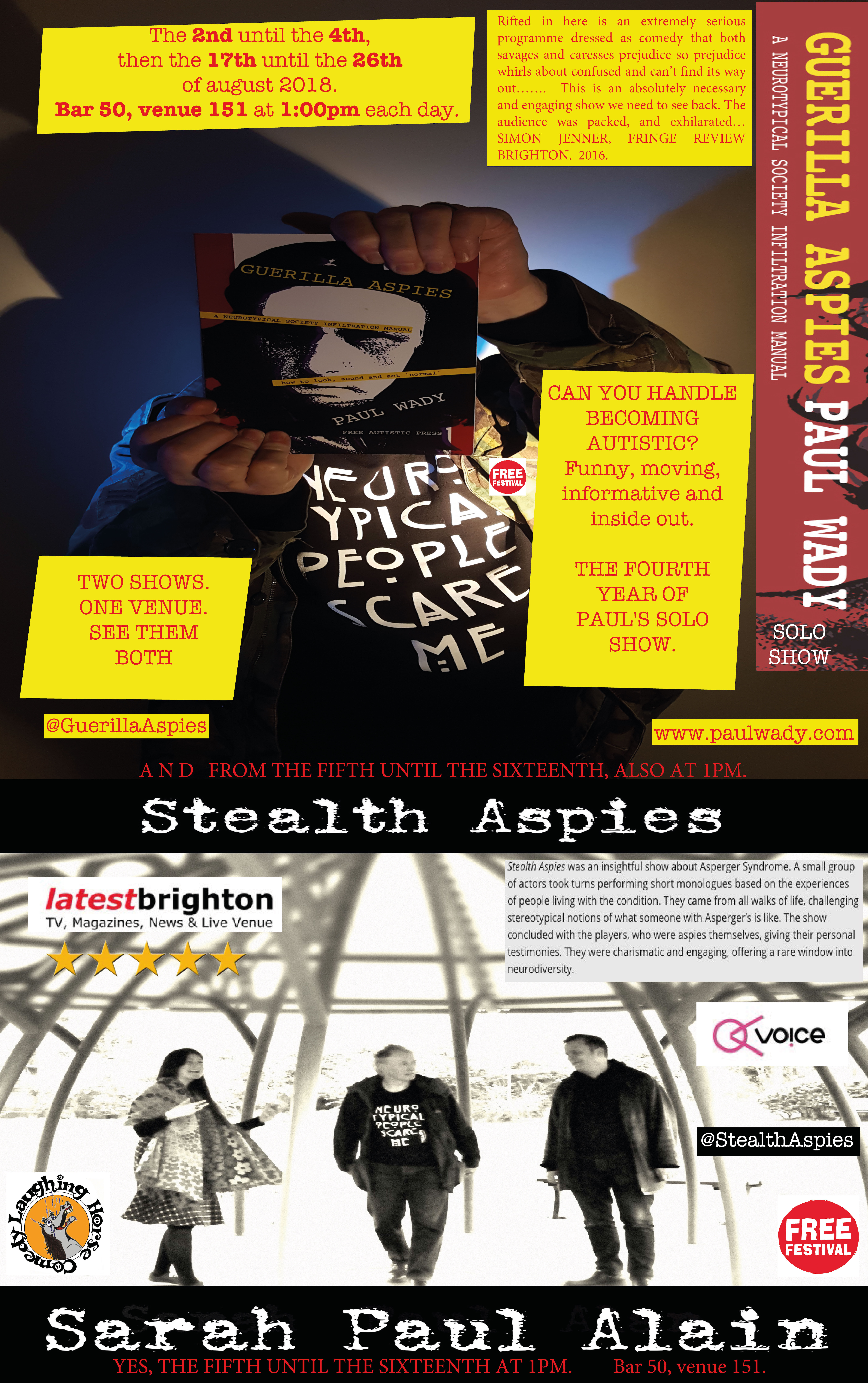 Yes, back again. Same Bat time, same Bat venue. Alain, Sarah, Emma and all being well Chris are joining me as Janine cannot make it this year (but her poems feature mightily). I've done two shows of my solo show so far and its been brilliant. Bucket shows so no tickets necessary. Just turn up and hope to get a seat.
SPEAKING AT THE 2014
LONDON AUTISM SHOW.
I was on the Autism Shows in London, Birmingham and Manchester in 2018.
HERE IS MY TALK

In PowerPoint format. (Slightly dodgy).
BRIGHTON & EDINBURGH FRINGE SHOWS.
WE GOT A FIVE STAR REVIEW.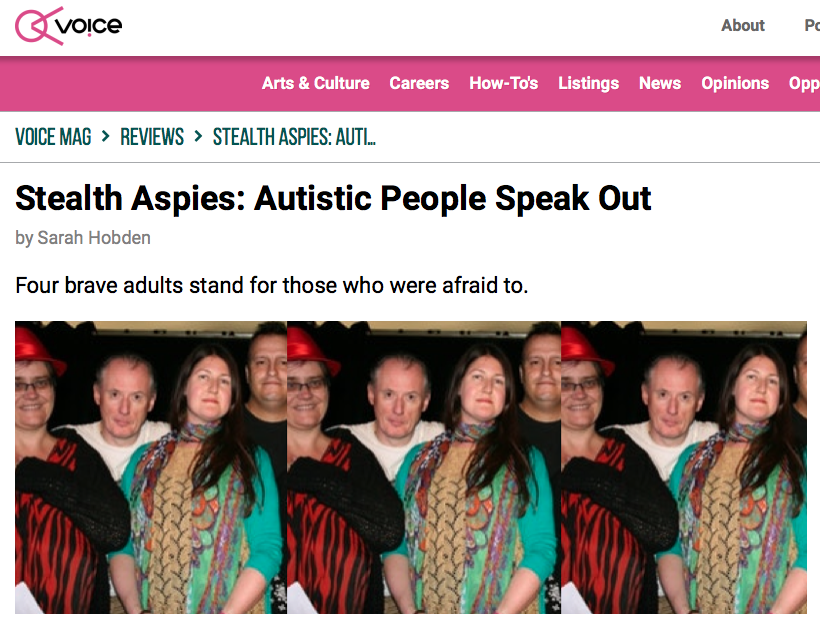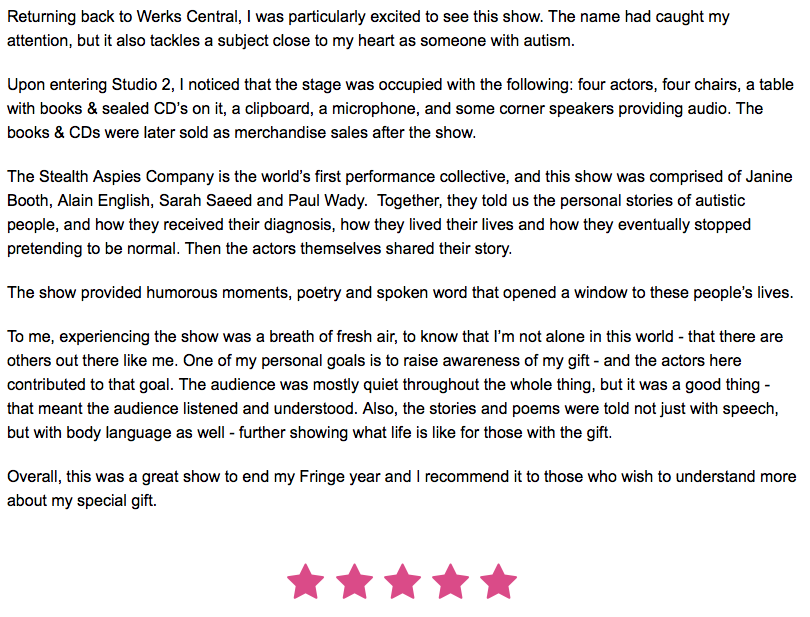 TO GO WITH THE BADGES:
Crazy isn't it? Click on here and the image for Ebay.
Yes, the American Horror Story font NEUROTYPICAL PEOPLE SCARE ME is now available, on sweatshirts too. All on my Ebay. Click on the images for everything going please. Postage discount deals on bulk buys. 🙂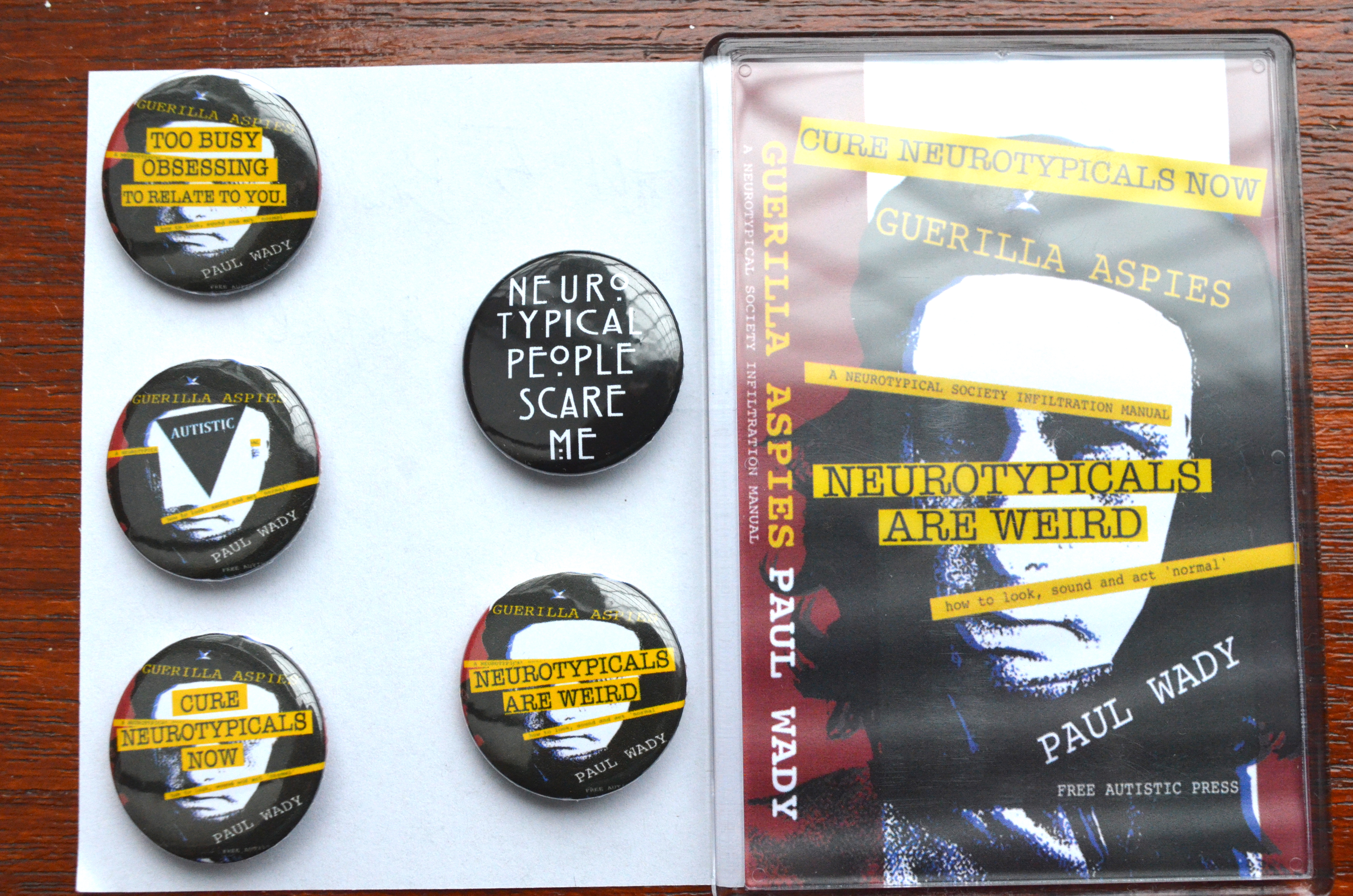 All the jumpers I had on sale have sold out. More to come.
LONDON STEALTH ASPIES SHOW
28TH JANUARY AT 5PM
VINYL IN DEPTFORD
Stealth Aspies played De Montford Hall.
Hang on I will find a photo. We were invited to play the venue by the University Medical School who had a big day there. Amazing to be on the same stage that Bowie, The Clash, The Strangers, The Beatles, The Rolling Stones and Frank Sinatra once used. We did it the Aspie way…
Solo and company shows both on
the Pelirocco Hotel this year, 2018
Great venue, great times. I literally set my jumper on fire and have film proof.
Edinburgh 2017 Free Fringe:
FILM AT LAST. EXCERPTS FROM THE SHOW.
THE STEALTH ASPIES SHOW GOT A FOUR STAR REVIEW.
Here it is. Sadly it fixates on one member and not the team effort of the four of us,
which is the real show. We have no director, merely work it out between ourselves. Janine Booth and son appeared with us and were both great and unique in their own right.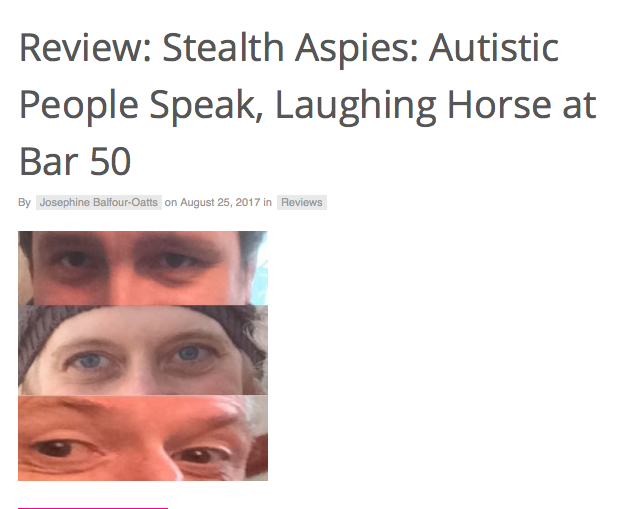 The show was an ensemble piece based on the two surveys below.
Want to contribute?
ONE https://www.surveymonkey.co.uk/r/83Y7Q9L
TWO https://www.surveymonkey.co.uk/r/83HX8FT
Come to the future show
and watch us share your stories live?
The second Stealth Aspies show

took place upon the 27th July and went well. Well well. Thanks to Jason Why for hosting us and introducing us and everything.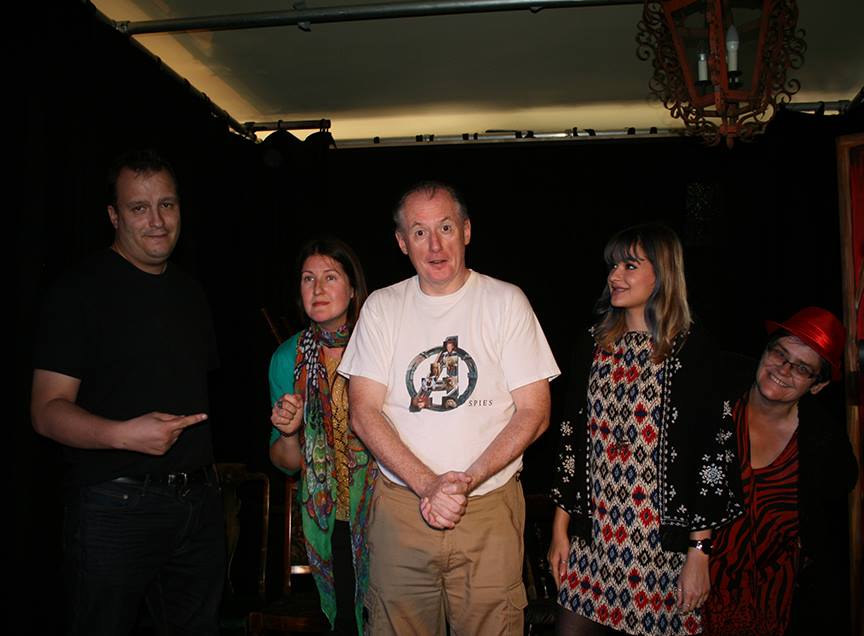 With Sarah Saeed, Alain English, Janine Booth and Hannah Yahya. Oh, and of course… Bar 50, venue 151 at 1pm 11-19th August.
Janine was the one person who suggested to John McDonnell that there be a neurodiversity manifesto for the U.K. Labour party and went on to co author it. Thus establishing the UK as the first on the planet and in history to politically represent our kind to that extent. HERE IT IS and ON FACEBOOK
FIRST STEALTH ASPIES PREVIEW,

29th June 2017.
Click on 'ere and the picture for Jason Why's film.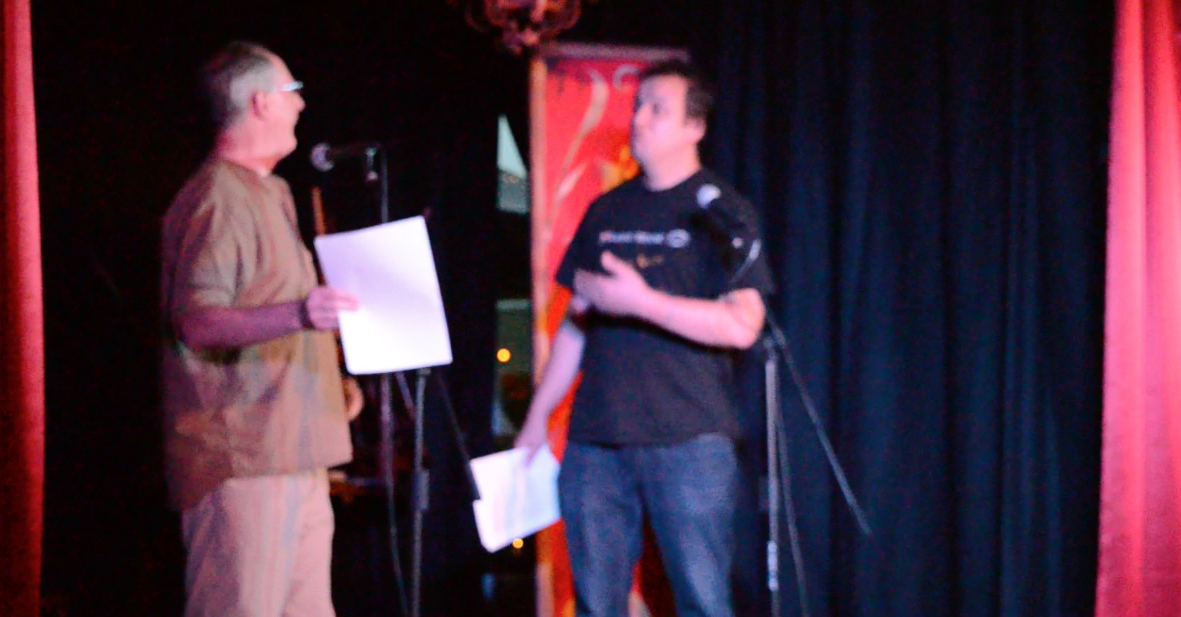 What else have I been up to?
I spoke at the Shy Radicals book launch at the DIY Cultures event, May 2017.
Click on the image and here for film of my speech.
Hamja Ahsan, author of Shy Radicals, The anti systemic politics of the militant introvert, invited four of us to talk at the DIY Culture event in Bethnal Green, sunday the 14th May 2017. Film was made of my explaining the history and concept of the Guerilla Aspies book and show, which stands both as an explanation and a reporting in, 3 years into it all. The film is to be seen here.
I played the first ever
UK Autism Arts Festival.

We were able to see all the shows currently in existence in the UK, 29th – 30th April. Canterbury University Campus.
Misfit Analysis by Cian Binchy and a work-in-progress of his new show MADHOUSE: Catch the Baby
Guerrilla Aspies by Paul Wady
Adventures of Super Aspie Grrl by Annette Foster
We Were Here by Daniel Bendelman
A night of live stand-up featuring Ria Lina, Don Biswas and Jay Islaam.
A new performance by Little Angel's Spectrum Youth Theatre.
https://autismartsfestival.org
SO…YOU COME SEEKING THE LIVE SHOW?
THE PERFORMANCE THAT CHANGES THE VERY SOULS OF IT'S AUDIENCE INTO AUTISTICS?
Have a look a the YouTube links below then?
First 15 minutes of the show in the Cockpit theatre 2015 – Edinburgh Fringe 2015 – Edinburgh Fringe 2016
Do not be afraid gentle seeker. You merely have to place your pointer upon the images above
and you will be transported to a magical land of performances.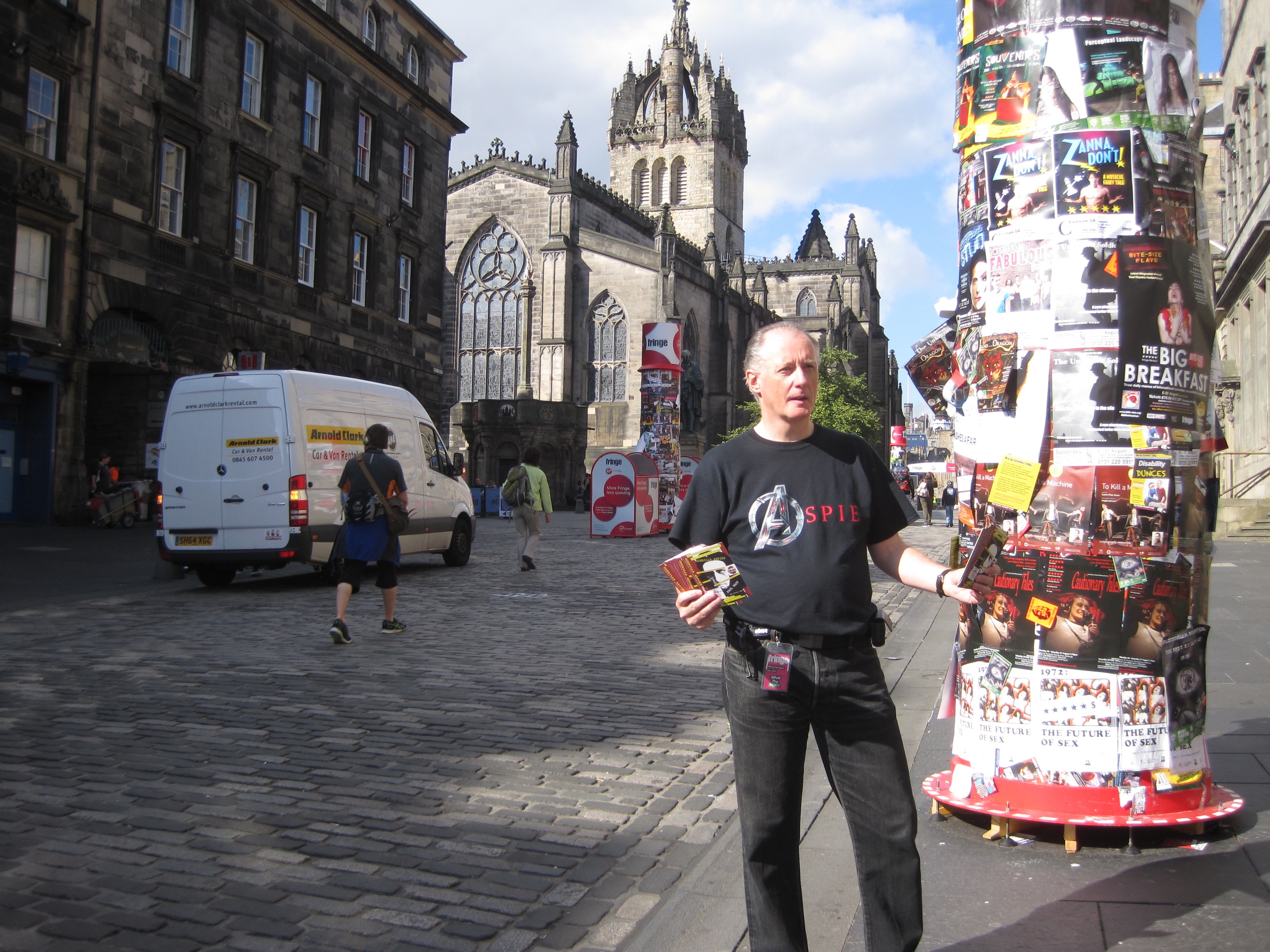 "WELL HELLO SAILOR…"
Click here for the pictorial show blog, which charts the history of my stage ravings.
(If you heard the song in my Guerilla Aspies show, here it is).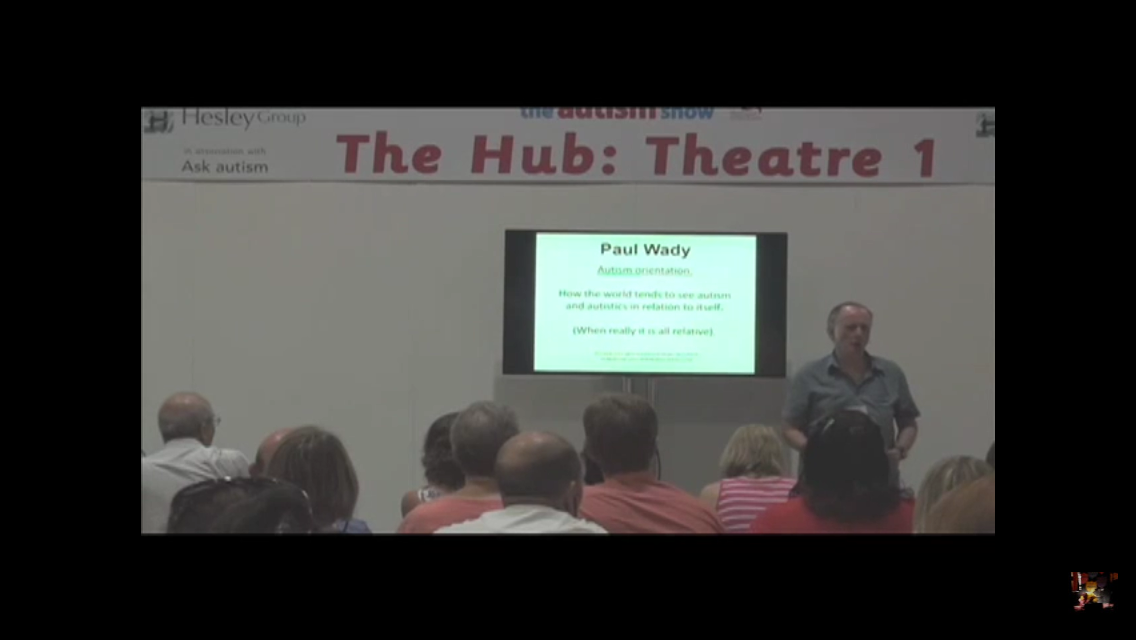 Lots more on my channel.
WANT TO CONTACT ME?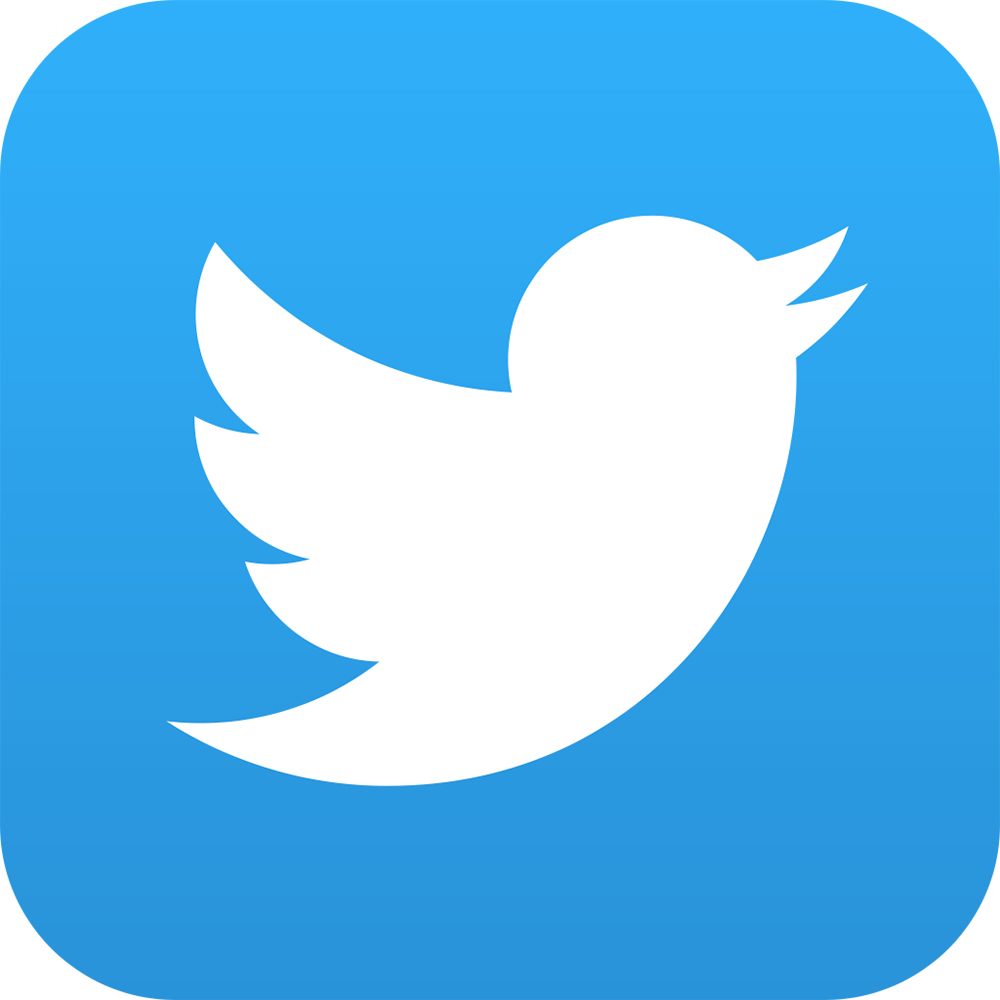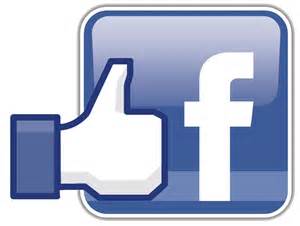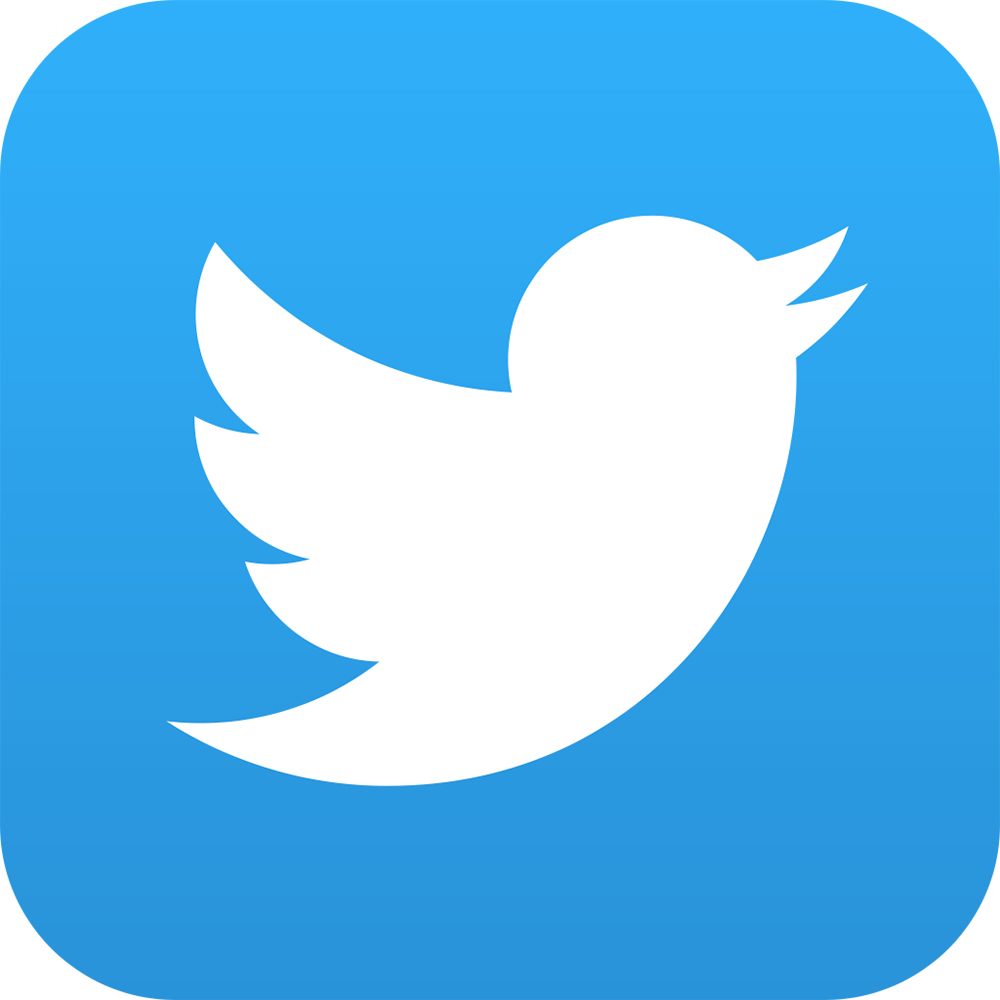 GuerillaAspies@Outlook.com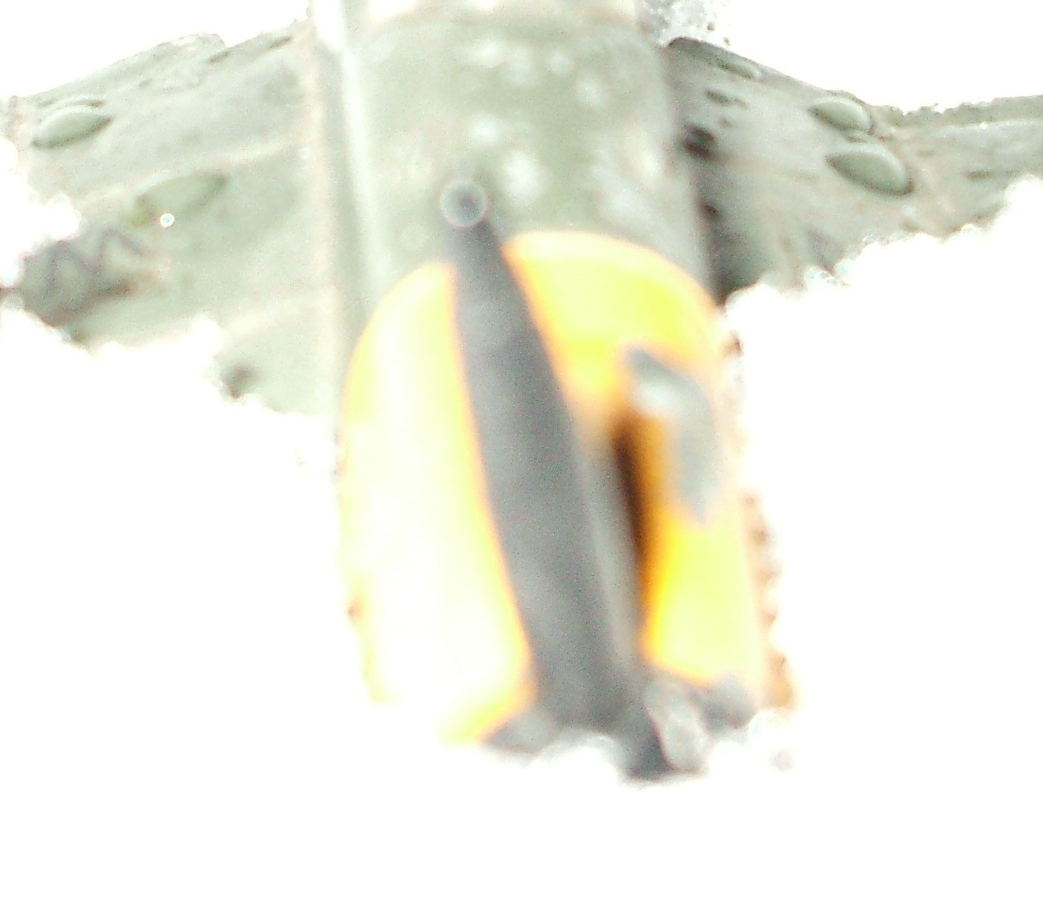 Have a look at this page for all the links?
One free and one you pay for and get a big granny PDF booklet full of images and writing.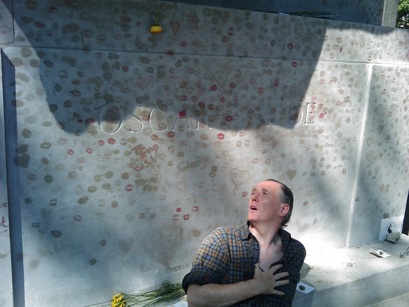 For 5 years my pal and I attempted to make the most profound, insightful and inquiring music ever heard. After the MySpace page died I never bothered to do much with them again. Yet they may rise again…
I was in the Guardian.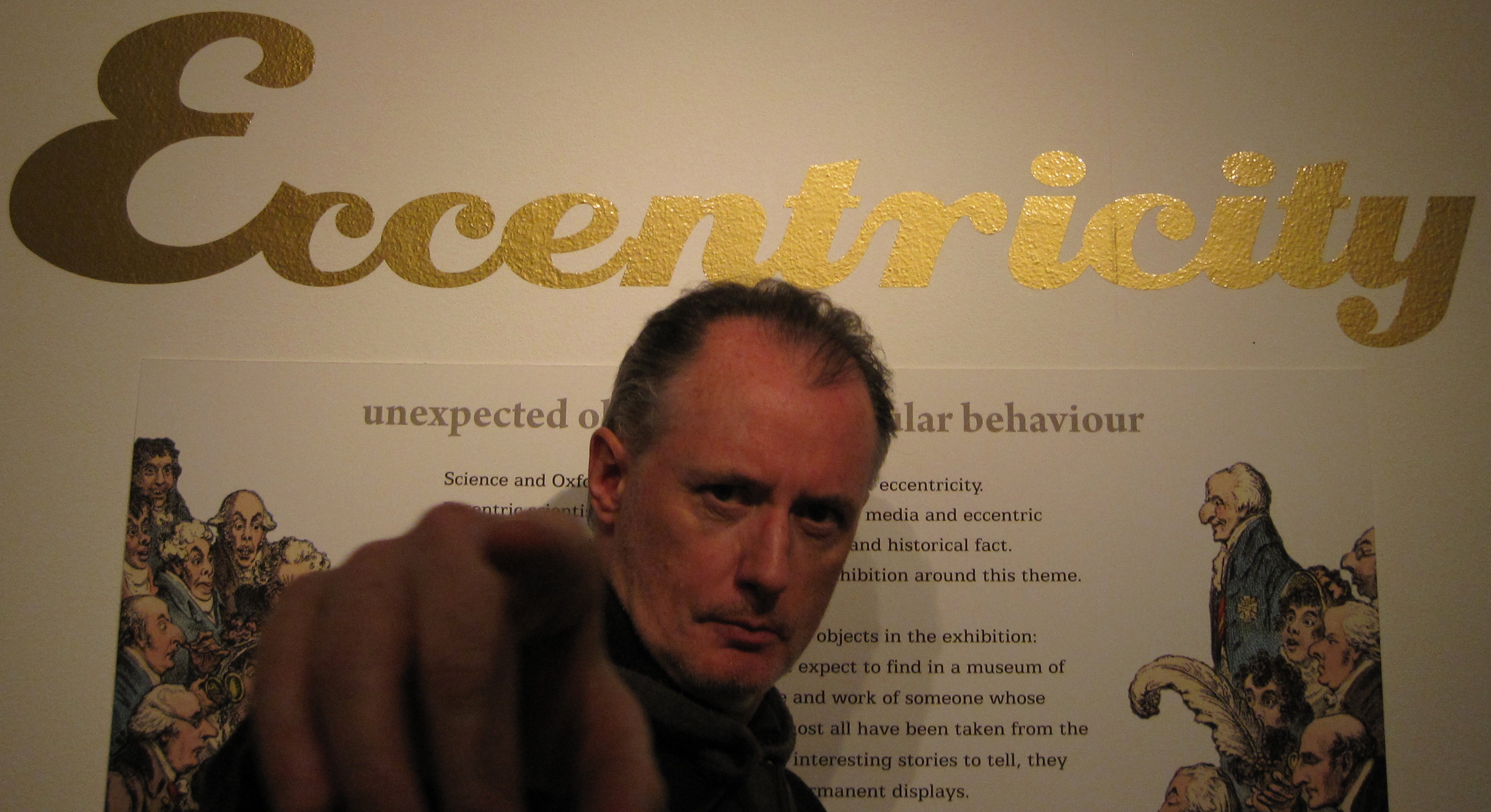 Well of course I was in The Guardian? This explains how I got diagnosed at the age of 41.
The kinda company I keep.
I am very proud of this image.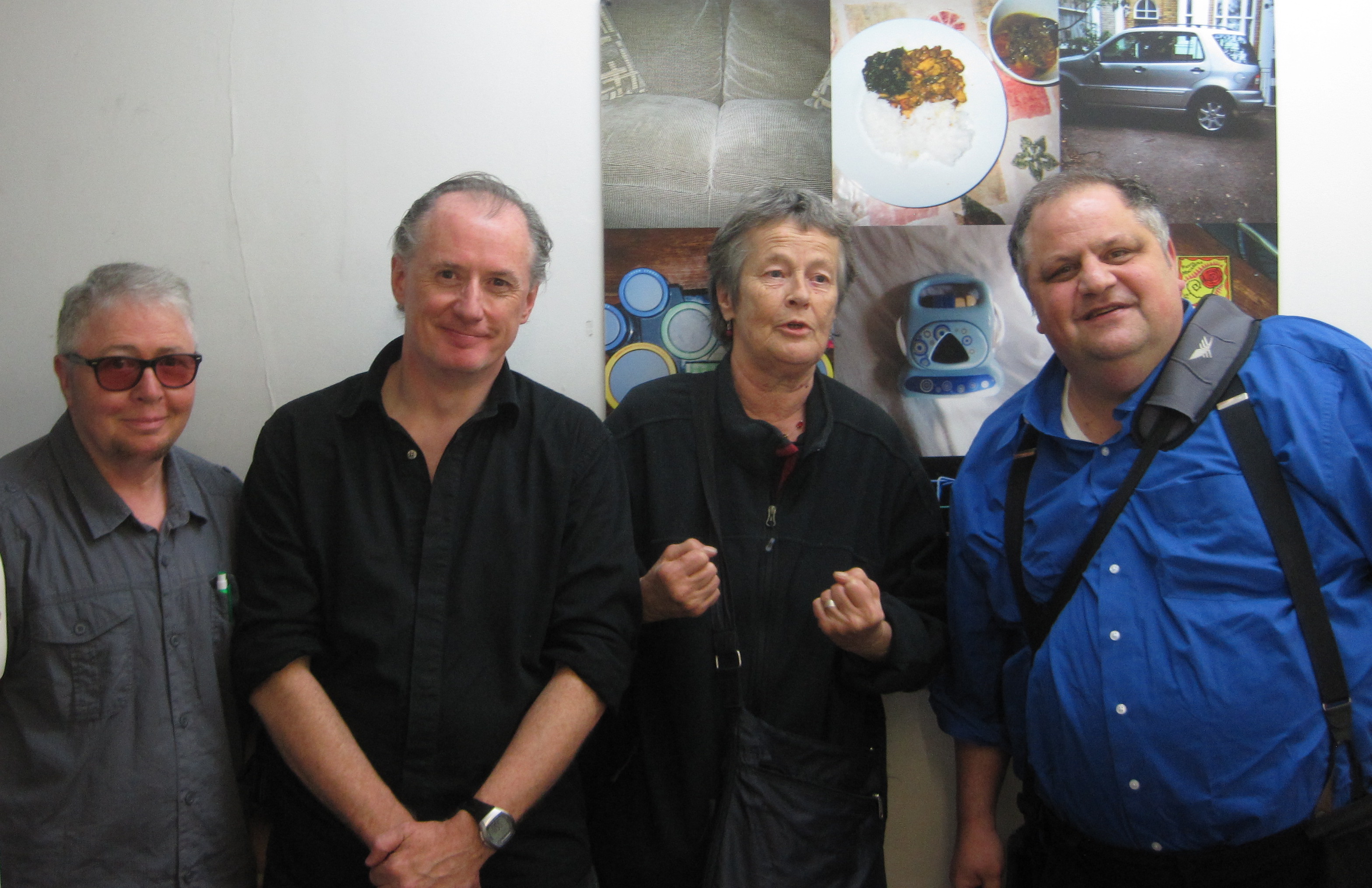 Dr Wenn Lawson, yours truly, Dr Dinah Murray and Steve Silberman, author of Neurotribes. We had a great evening discussing Steve's important and historic book in NAS headquarters.
Buy this book immediately. 🙂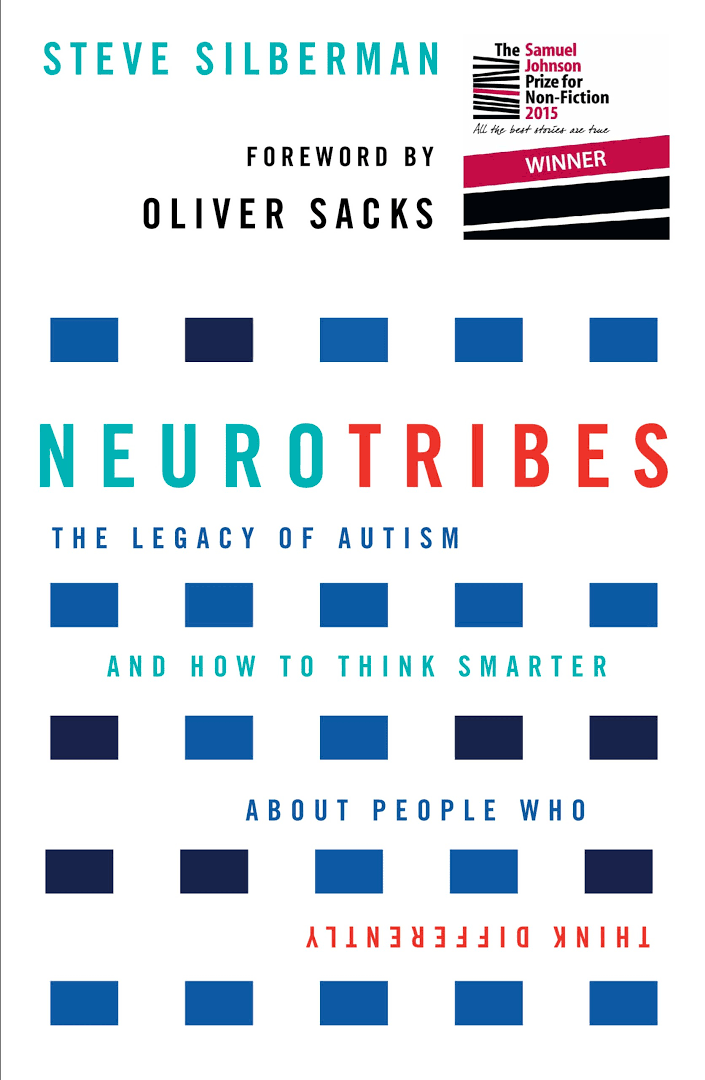 I love this brilliant US advocate.

There could only be one Eve Reiland, the Wake-Bake-Caffeinate International Badass Activist xx. Look out for her deconstruction of Autism Speaks here.

This is a better blog than mine.
For some really wonderfully well written experiences of being autistic,
this is one of many people doing a great job of it.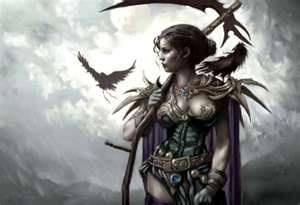 This fine young man has done very well too? Great films and writing.
(Always trust a man who owns a dog).