May you all be happy, well, content, channelling your energies in the right directions and relatively able to handle overstimulation.
 May you be able to create the right internal conditions via external ones and daily practices and habits.  🙂
ON THE EDINBURGH FRINGE THIS YEAR.
We had a great time.  Emma Robdale and Chris Pike make unique contributions with their writing.
Janine never made it but her poetry and writing sold out.
Thank you to everyone who came and met us and made friends.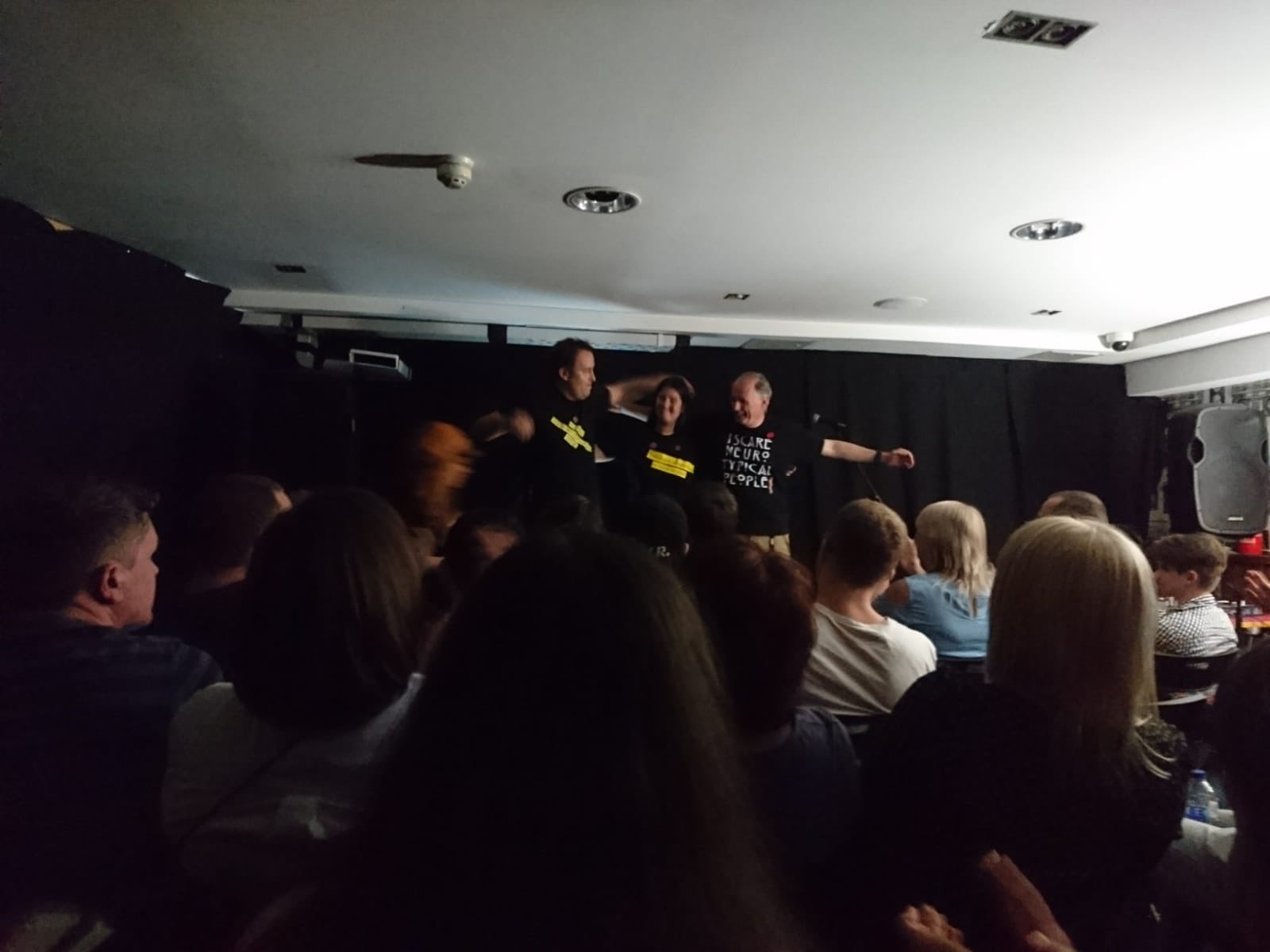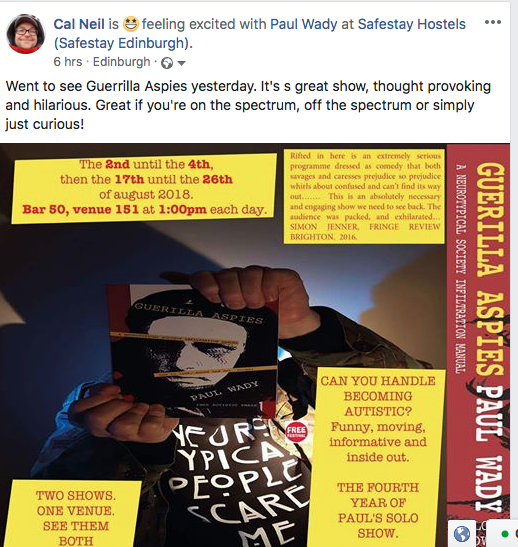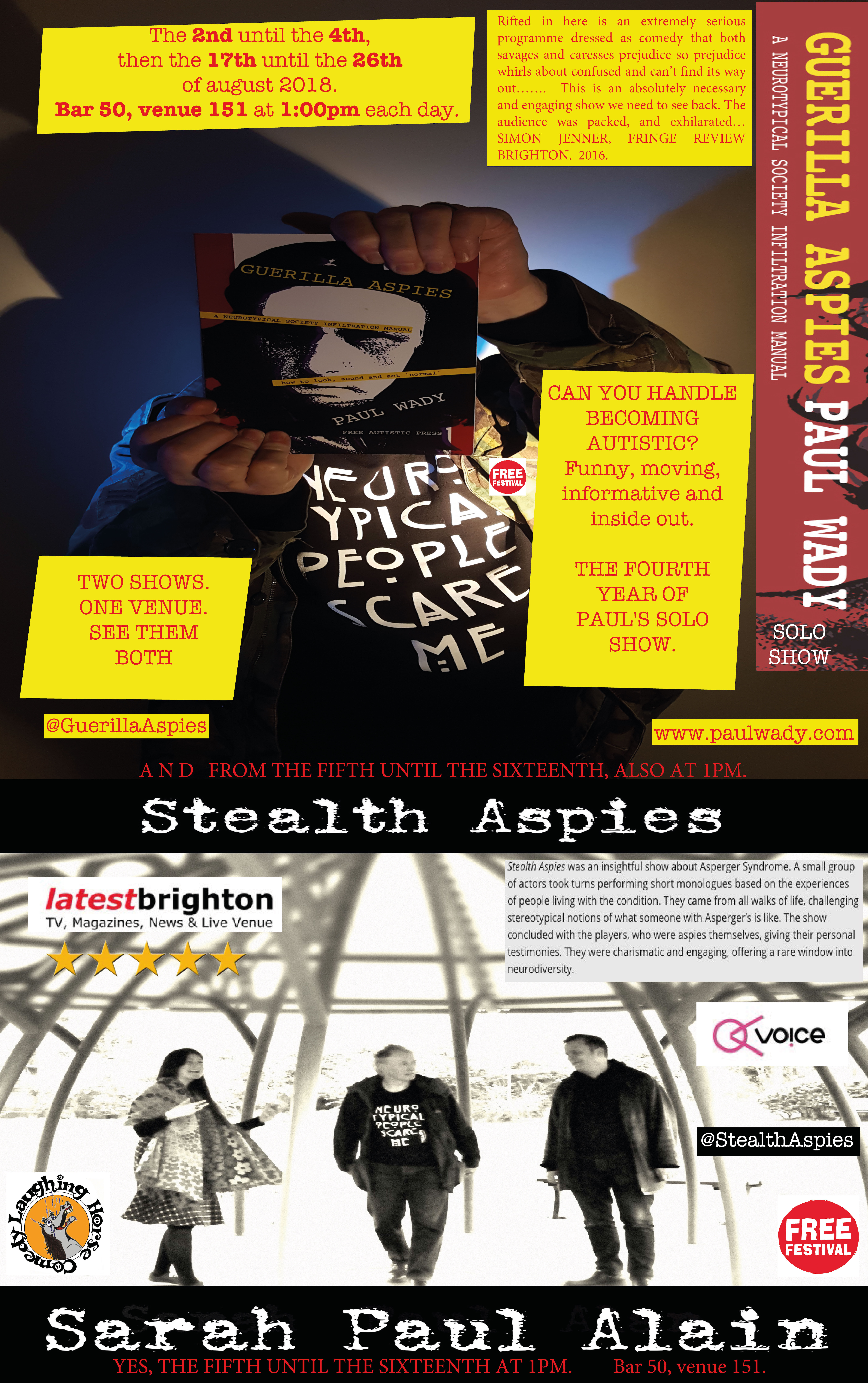 Yes, back again.  Same Bat time, same Bat venue.  Alain, Sarah, Emma and all being well Chris are joining me as Janine cannot make it this year (but her poems feature mightily).  I've done two shows of my solo show so far and its been brilliant.  Bucket shows so no tickets necessary.  Just turn up and hope to get a seat.
FILM WITH SOUNDTRACK – MY RISE OF THE GUERILLA ASPIES TALK HERE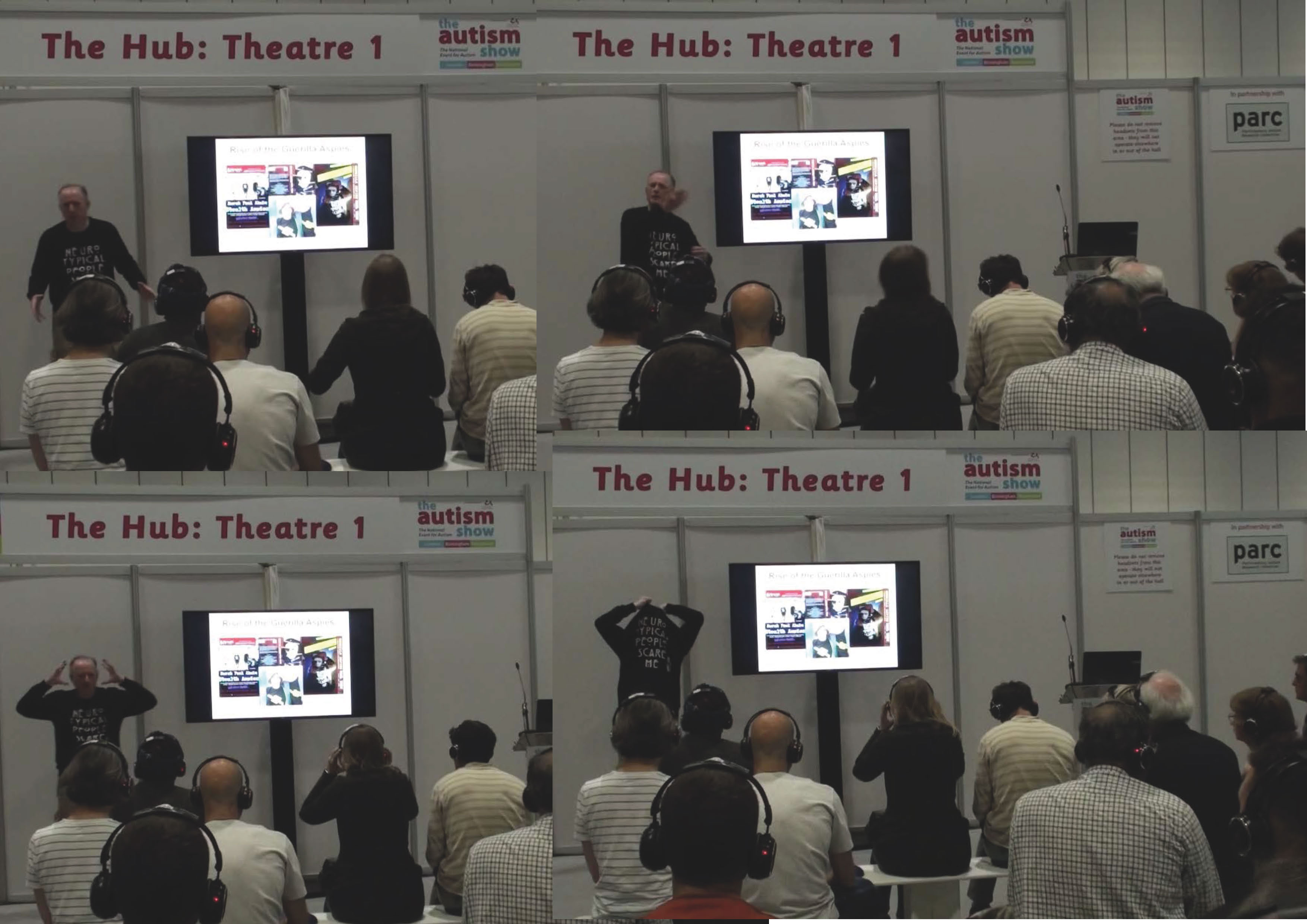 I'm on the Autism Shows in London, Birmingham and Manchester.  Click on the picture and this link.
HERE IS MY TALK  

In PowerPoint format. (Slightly dodgy).
BRIGHTON & EDINBURGH FRINGE SHOWS.
WE GOT A FIVE STAR REVIEW.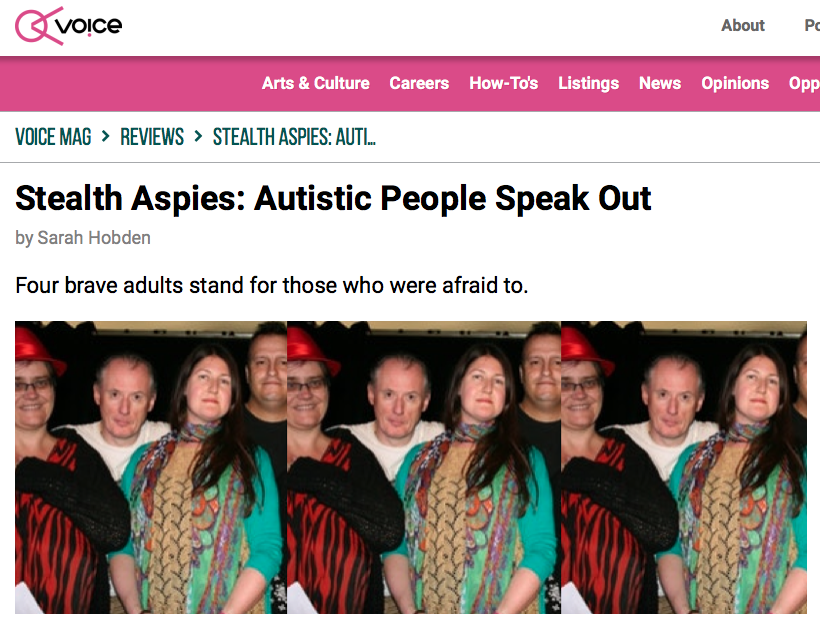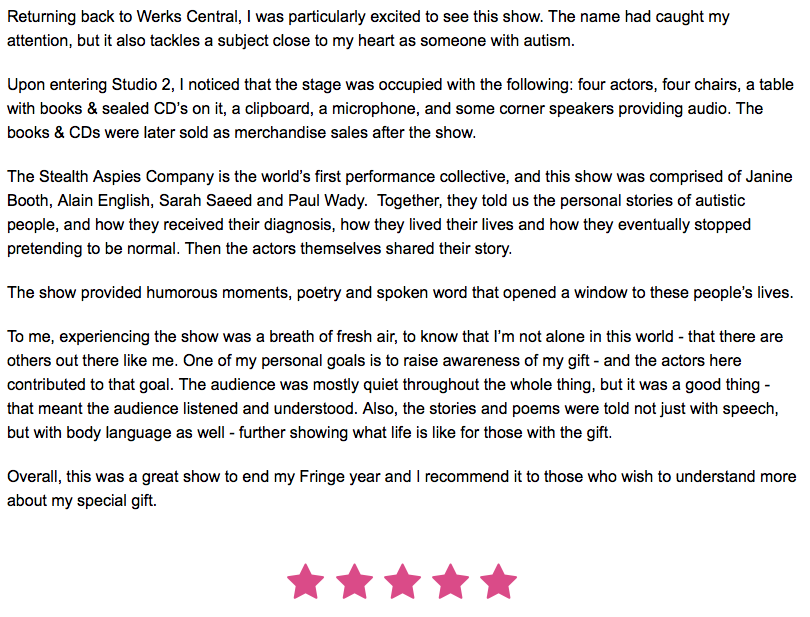 TO GO WITH THE BADGES:
Crazy isn't it?  Click on here and the image for Ebay.
Yes, the American Horror Story NEUROTYPICAL PEOPLE SCARE ME is now available, on sweatshirts too.  All on my Ebay. Click on the images for everything going please.  Postage discount deals on bulk buys.  🙂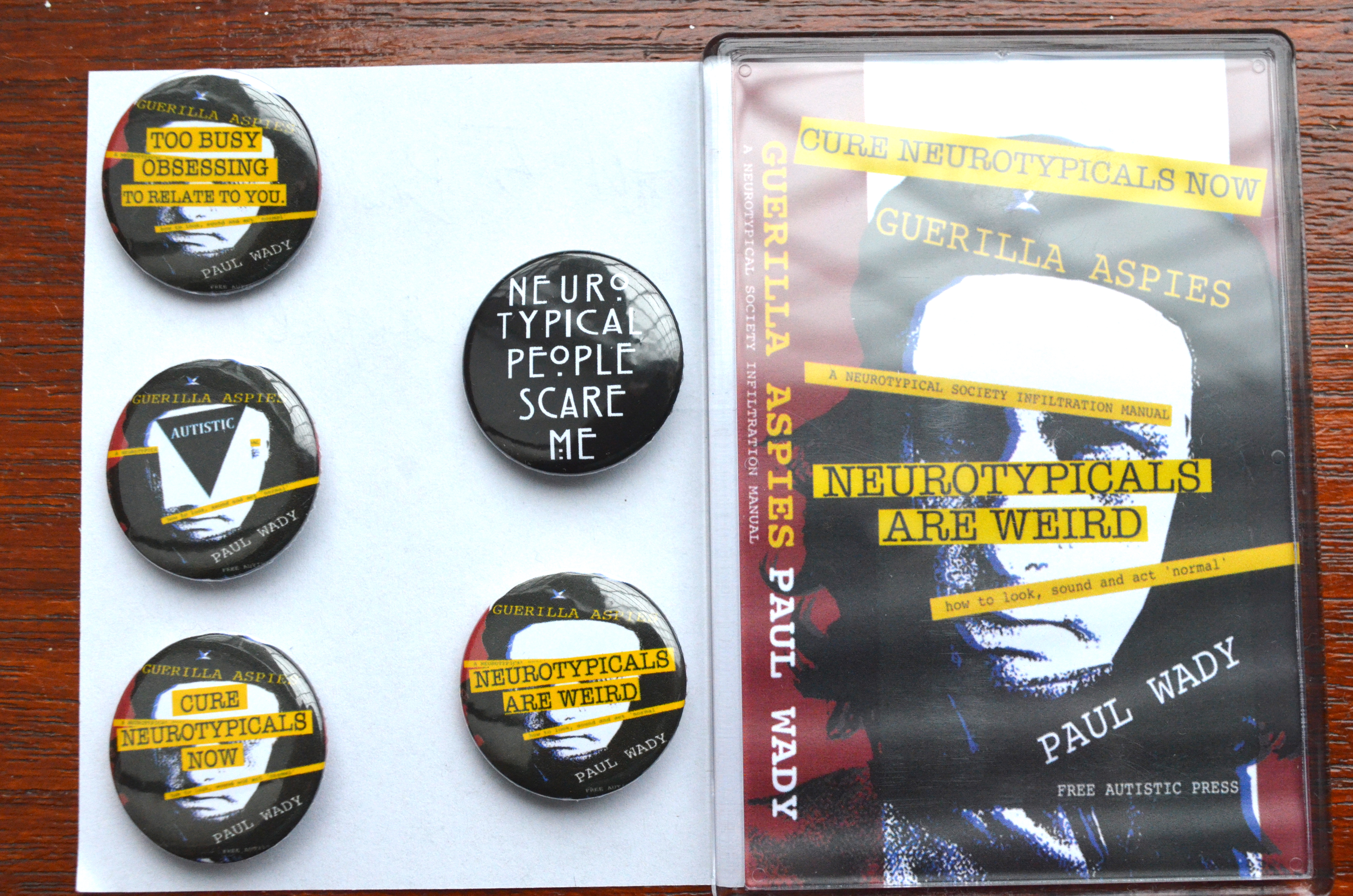 All the jumpers I had on sale have sold out.  More to come.
LONDON STEALTH ASPIES SHOW
28TH JANUARY AT 5PM
VINYL IN DEPTFORD
Stealth Aspies played De Montford Hall.
Hang on I will find  a photo.  We were invited to play the venue by the University Medical School who had a big day there.  Amazing to be on the same stage that Bowie, The Clash, The Strangers, The Beatles, The Rolling Stones and Frank Sinatra once used.  We did it the Aspie way…
Solo and company shows both on
the Pelirocco Hotel this year, 2018
Great venue, great times.  I literally set my jumper on fire and have film proof.
Edinburgh 2017 Free Fringe:
FILM AT LAST.  EXCERPTS FROM THE SHOW.
THE STEALTH ASPIES SHOW GOT A FOUR STAR REVIEW.
Here it is.  Sadly it fixates on one member and not the team effort of the four of us,
which is the real show.  We have no director, merely work it out between ourselves.  Janine Booth and son appeared with us and were both great and unique in their own right.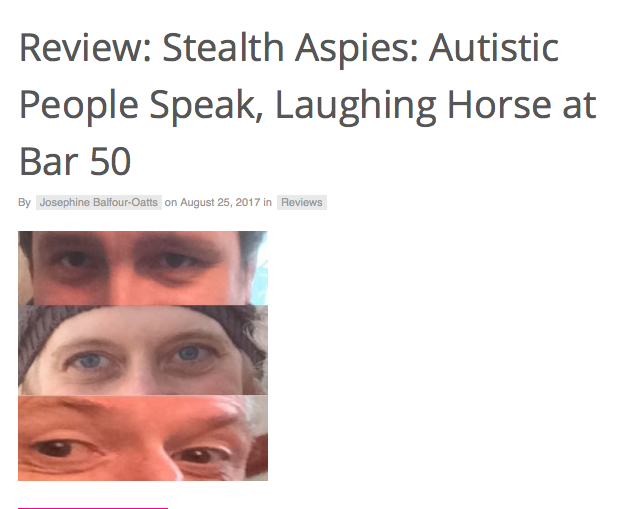 The show was an ensemble piece based on the two surveys below.
Want to contribute?
ONE  https://www.surveymonkey.co.uk/r/83Y7Q9L
TWO  https://www.surveymonkey.co.uk/r/83HX8FT
 Come to the future show
and watch us share your stories live?
The second Stealth Aspies show

took place upon the 27th July and went well.  Well well.  Thanks to Jason Why for hosting us and introducing us and everything.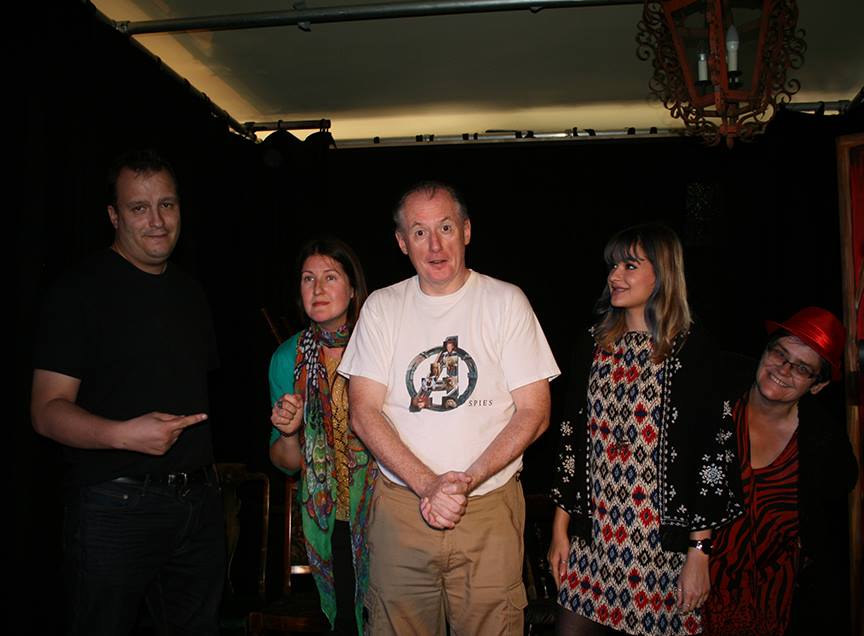 With Sarah Saeed, Alain English, Janine Booth and Hannah Yahya.  Oh, and of course…  Bar 50, venue 151 at 1pm 11-19th August.
 Janine was the one person who suggested to John McDonnell that there be a neurodiversity manifesto for the U.K. Labour party and went on to co author it.  Thus establishing the UK as the first on the planet and in history to politically represent our kind to that extent.  HERE IT IS and ON FACEBOOK
FIRST STEALTH ASPIES PREVIEW,

29th June 2017.
Click on 'ere and the picture for Jason Why's film.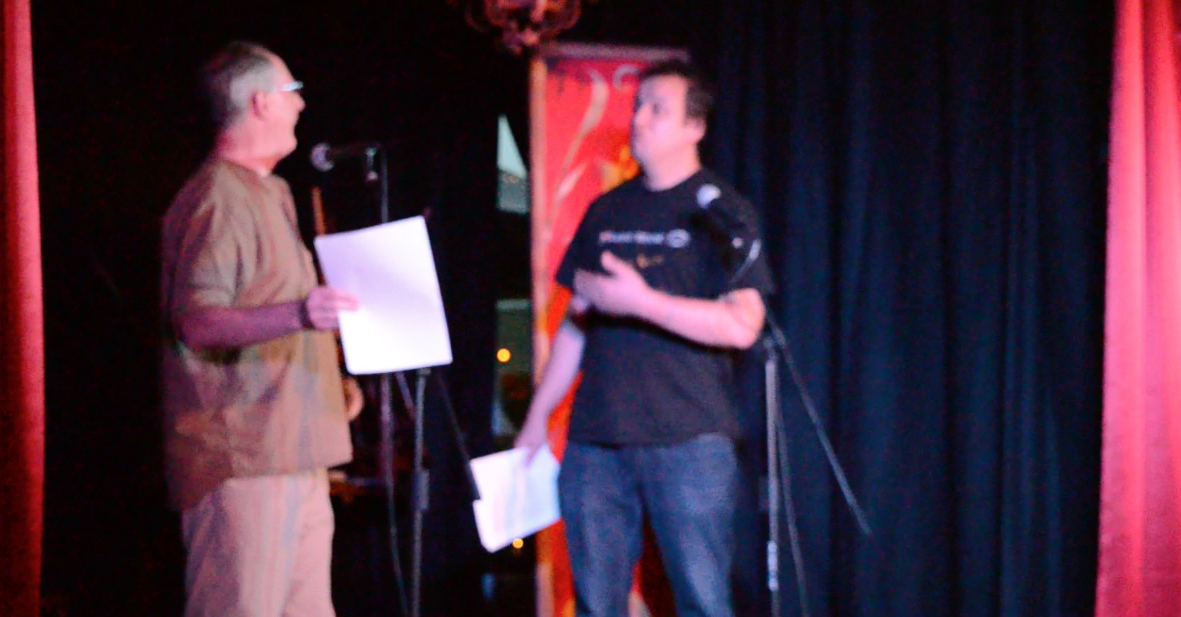 YES, I HAVE STARTED RECORDING THEM.  OH, THE JOY OF MY OWN VOICE ALONE…
I HOPE TO BE JOINED BY PALS TOO.  🙂
What else have I been up to?
I spoke at the Shy Radicals book launch at the DIY Cultures event, May 2017.
Click on the image and here for film of my speech.  
Hamja Ahsan, author of Shy Radicals, The anti systemic politics of the militant introvert, invited four of us to talk at the DIY Culture event in Bethnal Green, sunday the 14th May 2017.  Film was made of my explaining the history and concept of the Guerilla Aspies book and show, which stands both as an explanation and a reporting in, 3 years into it all.  The film is to be seen here.
I played the first ever
UK Autism Arts Festival.

 We were able to see all the shows currently in existence in the UK, 29th – 30th April. Canterbury University Campus.
Misfit Analysis by Cian Binchy and a work-in-progress of his new show MADHOUSE: Catch the Baby
Guerrilla Aspies by Paul Wady
Adventures of Super Aspie Grrl by Annette Foster
We Were Here by Daniel Bendelman
A night of live stand-up featuring Ria Lina, Don Biswas and Jay Islaam.
A new performance by Little Angel's Spectrum Youth Theatre.
https://autismartsfestival.org
THE BOOK
Buy this immediately: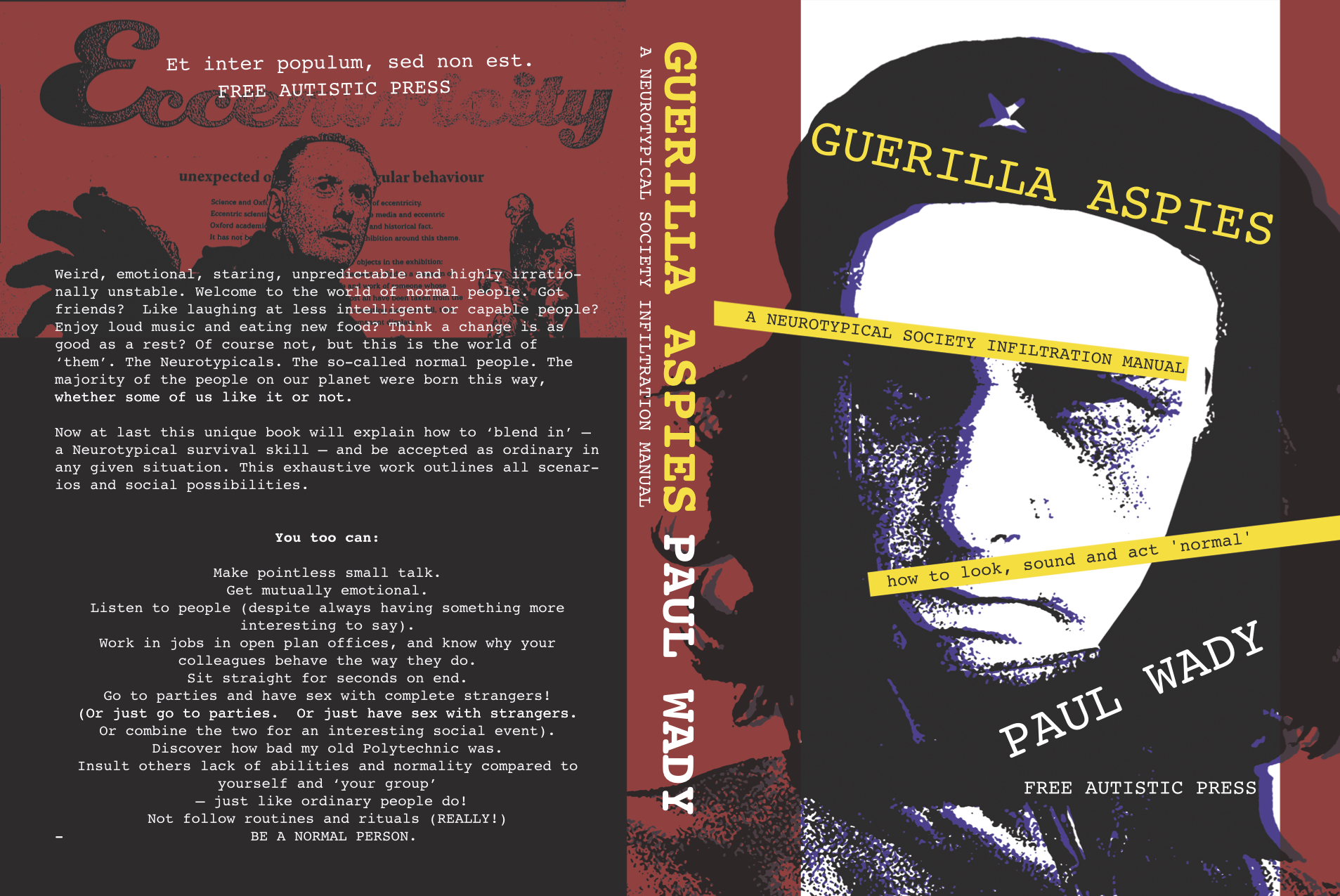 Available from all the best bizarre and occult bookshops, such as Watkins in Charing Cross (really), and all the other ones I could find that take work like mine. Just have a nose around. Best one was News From Nowhere in Liverpool. So proud to get one in there. 🙂
You can buy signed editions from my Ebay with a free badge here:
Signed Paperback with a free badge.
Or just buy badges: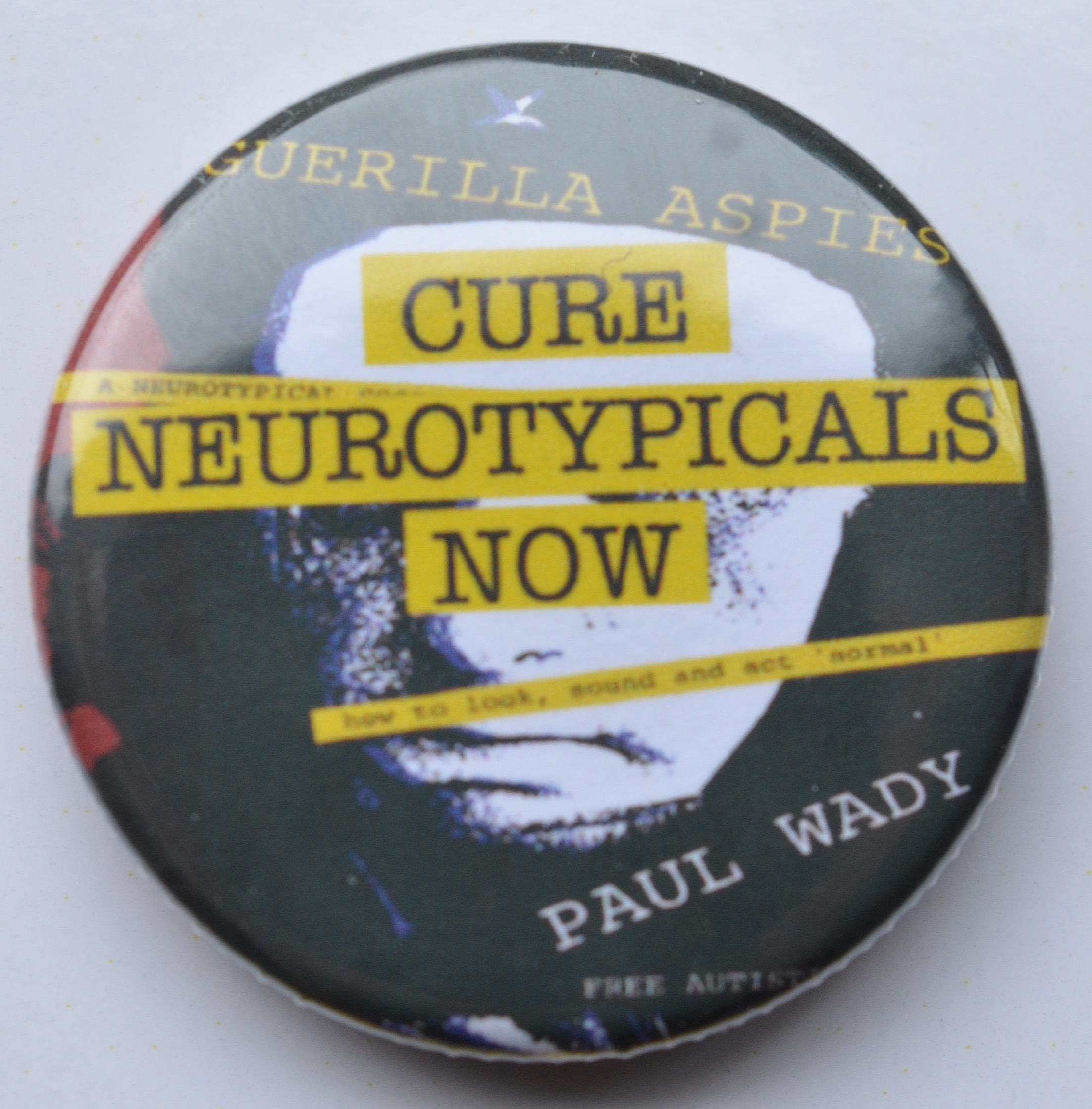 SO…YOU COME SEEKING THE LIVE SHOW?
THE PERFORMANCE THAT CHANGES THE VERY SOULS OF IT'S AUDIENCE INTO AUTISTICS?
Have a look a the YouTube links below then?
First 15 minutes of the show in the Cockpit theatre 2015     –     Edinburgh Fringe 2015     –     Edinburgh Fringe 2016
Do not be afraid gentle seeker.  You merely have to place your pointer upon the images above
and you will be transported to a magical land of performances.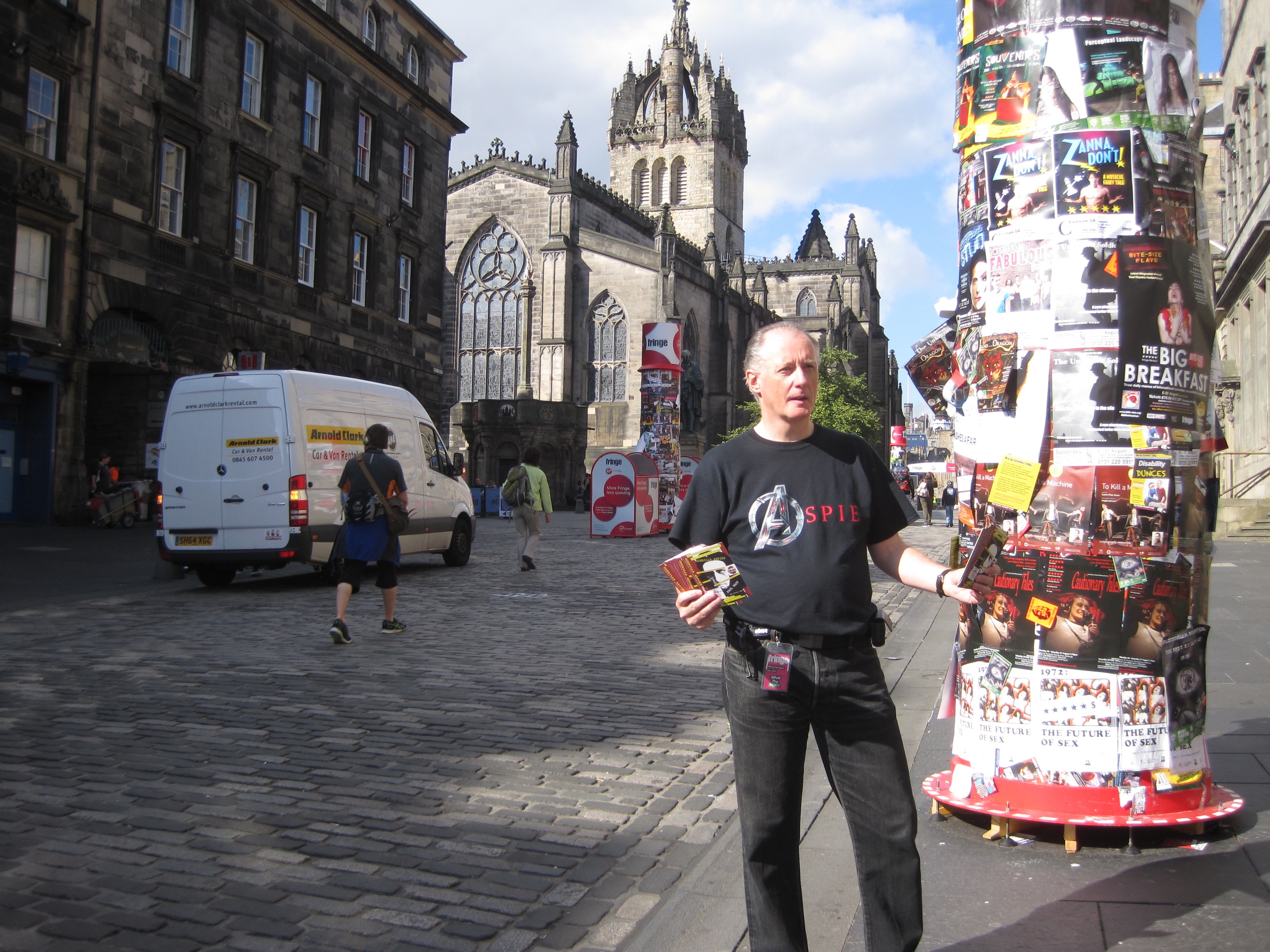 "WELL HELLO SAILOR…"
Click here for the pictorial show blog, which charts the history of my stage ravings.
(If you heard the song in my Guerilla Aspies show, here it is).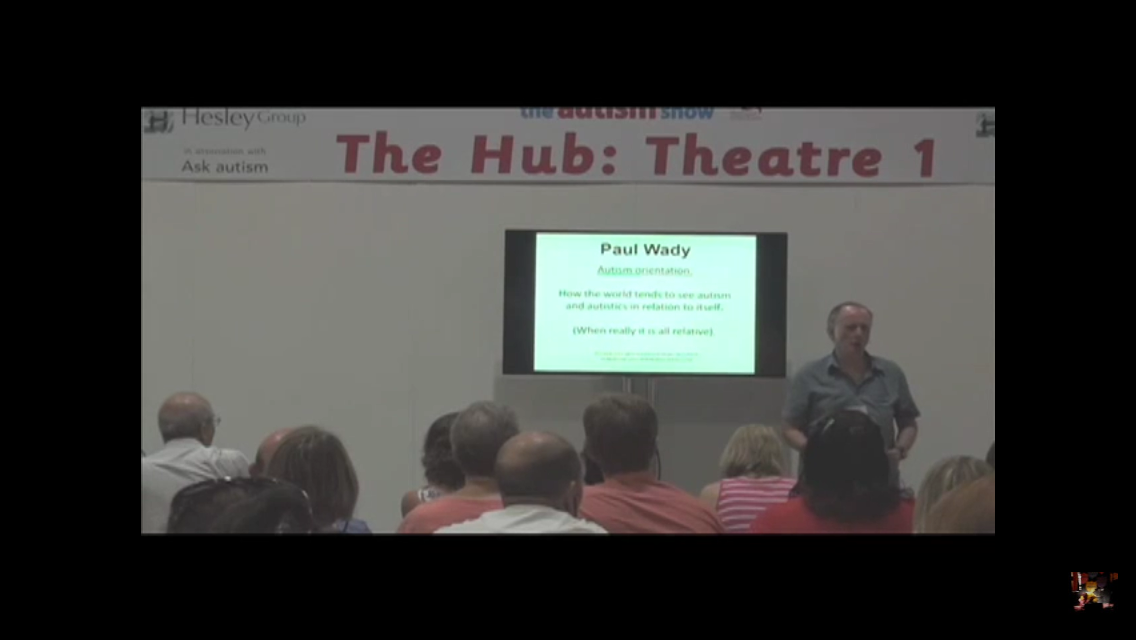 Lots more on my channel.
WANT TO CONTACT ME?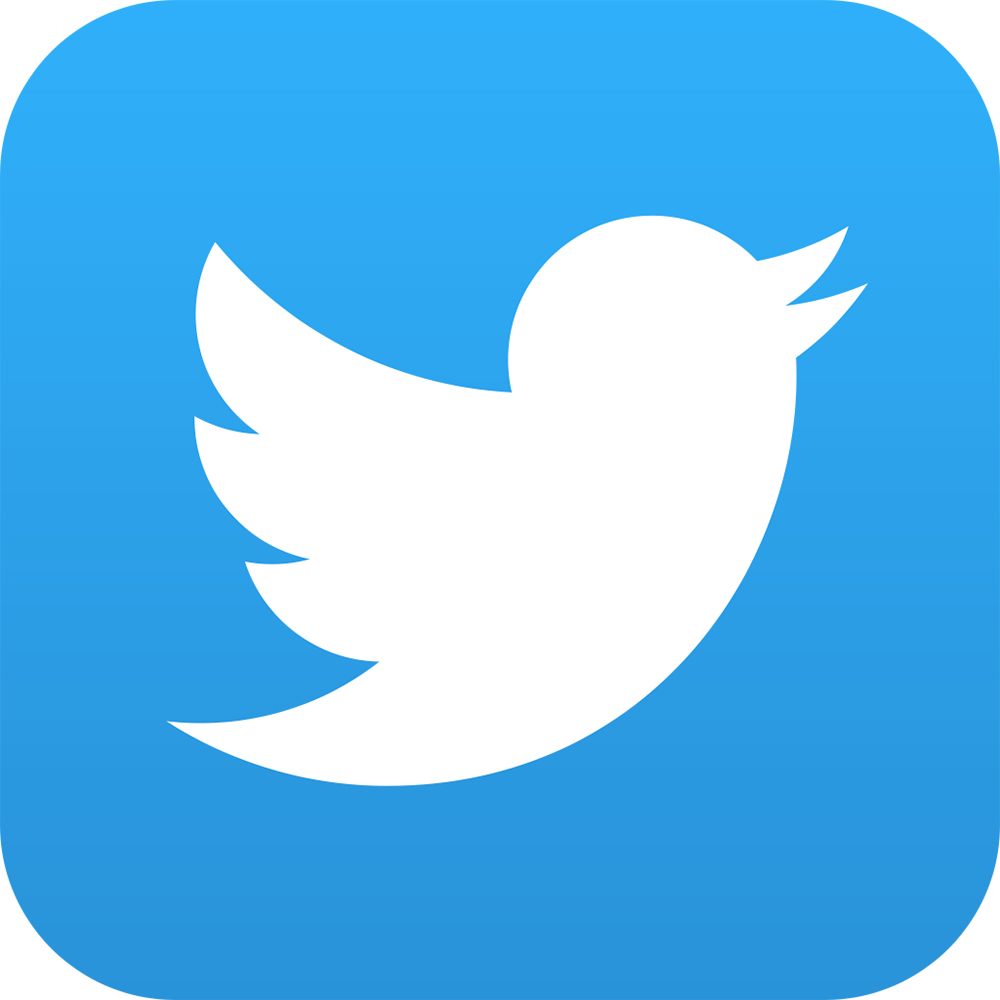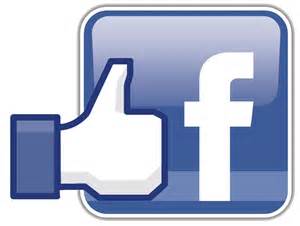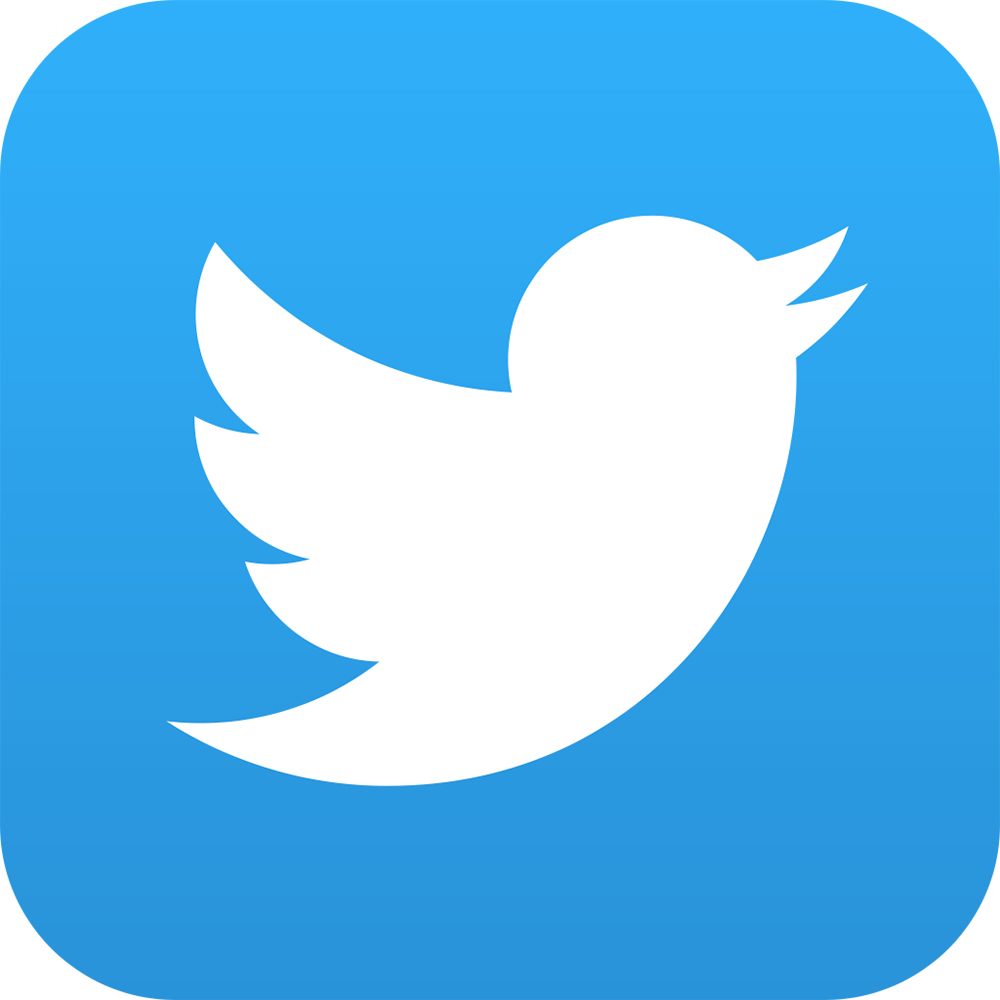 GuerillaAspies@Outlook.com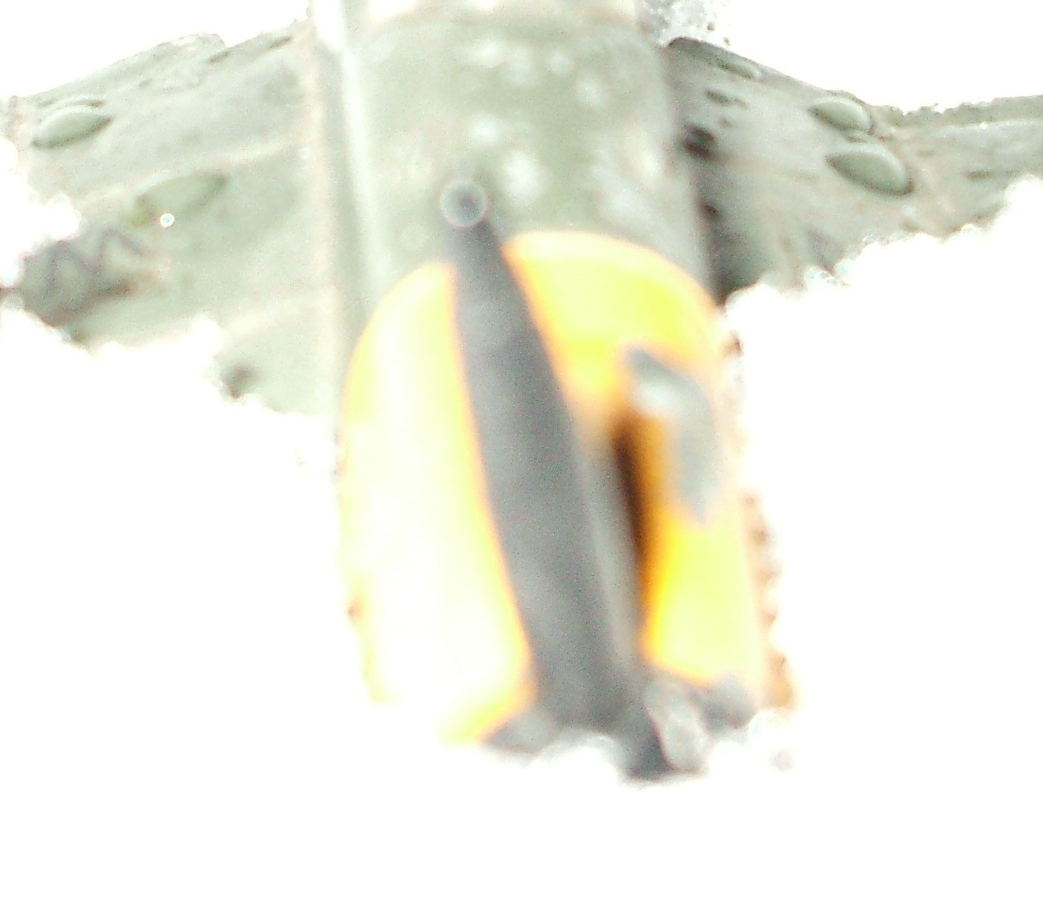 Have a look at this page for all the links?
One free and one you pay for and get a big granny PDF booklet full of images and writing.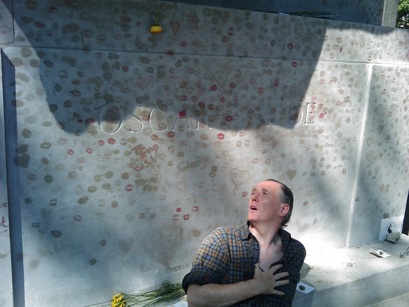 2003-2008 THE PAUL WADY EXPERIENCE band.
For 5 years my pal and I attempted to make the most profound, insightful and inquiring music ever heard.
I was in the Guardian.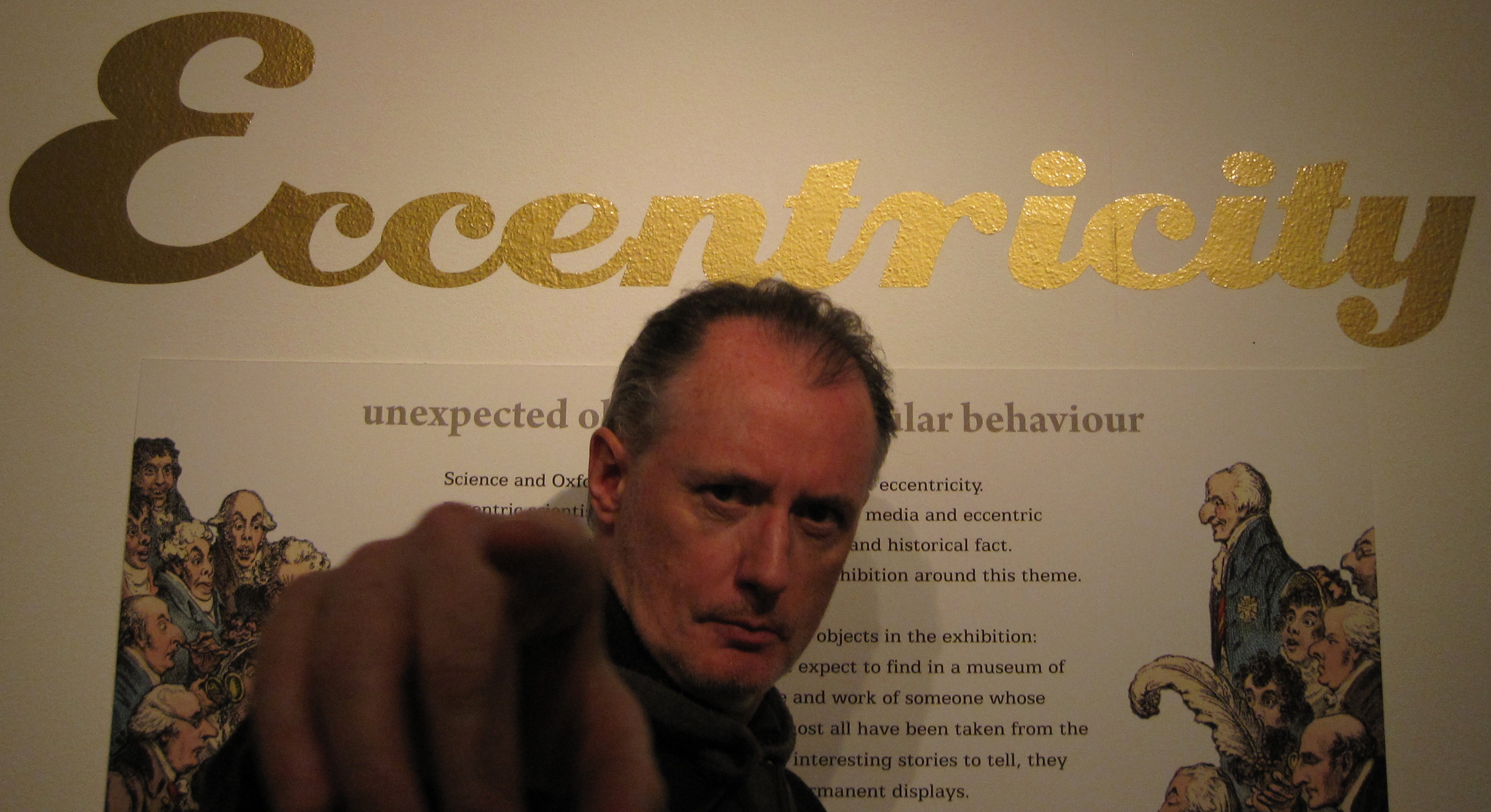 Well of course I was in The Guardian?  This explains how I got diagnosed at the age of 41.
The kinda company I keep.
I am very proud of this image.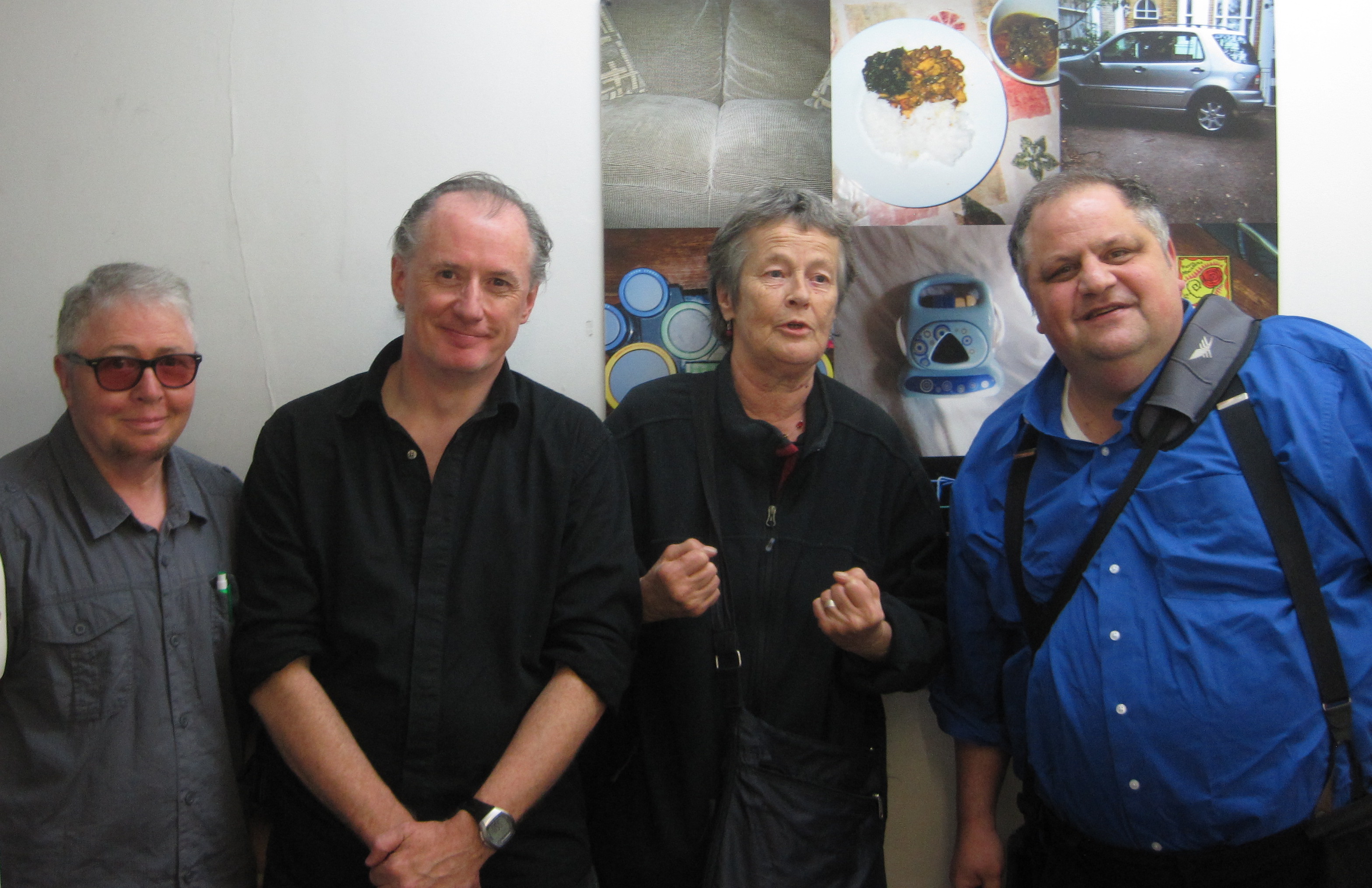 Dr Wenn Lawson, yours truly, Dr Dinah Murray and Steve Silberman, author of Neurotribes. We had a great evening discussing Steve's important and historic book in NAS headquarters.
Buy this book immediately.  🙂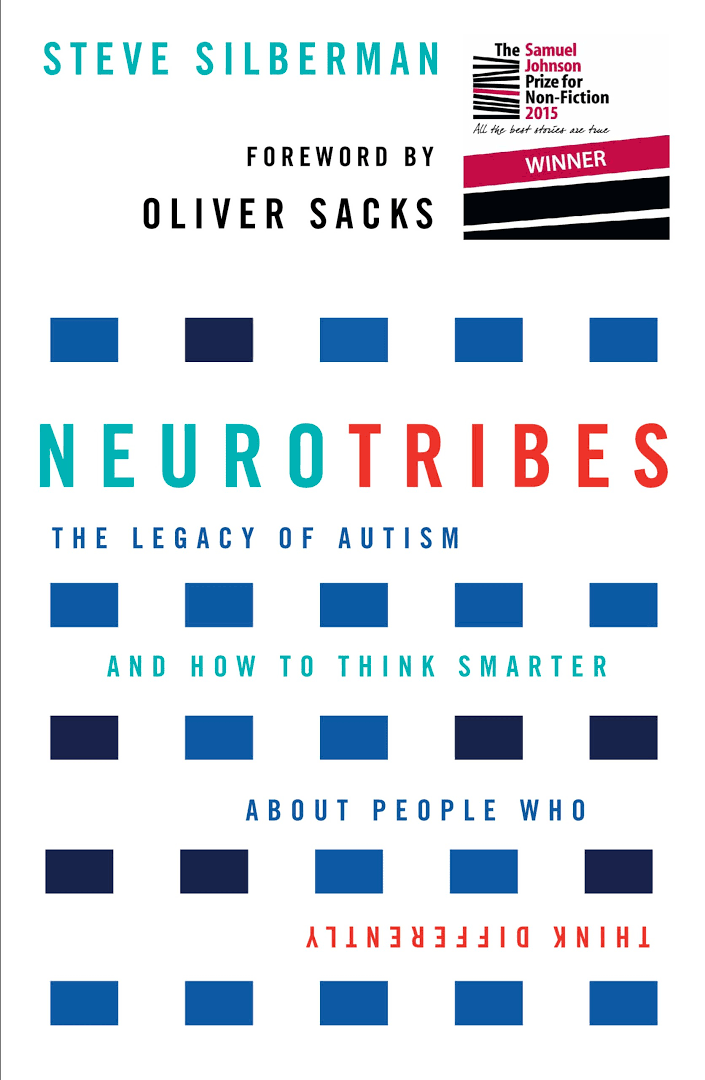 This is a better blog than mine.
For some really wonderfully well written experiences of being autistic,
this is one of many people doing a great job of it.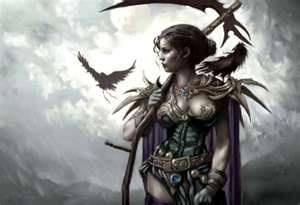 This fine young man has done very well too?  Great films and writing.
(Always trust a man who owns a dog).